Father Accused of Tossing Girl Off Bridge While Strapped into Car Seat
(FREEHOLD) Jury selection began Tuesday morning in the murder trial of Arthur E. Morgan, III, in the courtroom of Monmouth County Superior Court Judge Anthony J. Mellaci, Jr., J.S.C., announced Acting Monmouth County Prosecutor Christopher J. Gramiccioni.
Morgan, 29, with a last known address in Eatontown, is facing charges stemming from the death of his 2-year-old daughter, after the young girl's body was discovered in November 2011, under a Schoolhouse Road bridge over the Shark River by a group of teenagers. Morgan is charged with first degree Murder, second degree Endangering the Welfare of a Child and third-degree Interference with Custody.
The discovery of the toddler's fully-clothed body, strapped into a car seat, submerged in the stream below an overpass located on Schoolhouse Road in the Shark River Park section of Wall on Nov. 22, 2011, sparked a joint investigation by the Monmouth County Prosecutor's Office and other law enforcement agencies. The child was later identified as Tierra Morgan-Glover, 2, of Lakehurst, who was reported missing the previous night.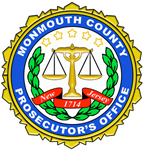 An examination conducted by the medical examiner concluded the manner of death as homicide and the cause of death as homicidal violence, including submersion in water. These findings indicate the young girl was alive when she was cast into the water while strapped in her car seat. Jury selection is expected to continue through the remainder of this week, and opening statements by both sides could occur as early as Tuesday, March 11, 2014, but check with the Trial Court Administrator's Office (TCAO) at the Monmouth County Courthouse for the actual date. The media is asked to call the TCAO for any requests and permissions to bring video cameras, still cameras or microphones into the courtroom for this trial by calling (732) 677-4208.
A missing persons report was filed by Tierra's mother on Nov. 21, 2011. Morgan had taken Tierra out for a few hours on that same day, as agreed upon by the two parents. After Morgan failed to return Tierra to her mother at their home in Lakehurst at the agreed upon time, and after hours of trying to reach Morgan, Tierra's mother contacted the Lakehurst Police who, in turn, notified the Ocean County Prosecutor's Office. Both agencies, with the assistance of the Ocean Township (Monmouth County) Police Department, conducted an intensive search for Tierra.
When Tierra's body was pulled from the water, the Office's Major Crimes and Forensic and Technical Services units, along with Wall Township Police Department, commenced a cooperative investigation into the homicide. Investigators ultimately determined Morgan killed his daughter and fled the area by taking a train from Asbury Park to Newark. An active search, led by the U.S. Marshal's Service and Monmouth County Sheriff's Office, was undertaken with the assistance of several other federal, state and local law enforcement agencies leading to Morgan's capture on Nov. 29, 2011, by the Marshal's Service in San Diego, Calif.
Morgan waived extradition back to New Jersey, and has remained incarcerated in the Monmouth County Correctional Institution, Freehold Township, in lieu of $10 million bail set by Monmouth County Superior Court Judge Lawrence M. Lawson, A.J.S.C., and an additional $200,000 bail, as set by Ocean County Superior Court Judge Francis Hodgson, J.S.C. for charges filed in Ocean County. These charges have been consolidated for prosecution in Monmouth County.
If convicted of first degree Murder, Morgan faces a minimum sentence of 30 years in a New Jersey state prison without parole and a maximum sentence of life imprisonment, subject to the provisions of the "No Early Release Act" (NERA) requiring him to serve 85 percent of the sentence imposed before becoming eligible for release on parole. A Monmouth County grand jury found an aggravating factor to exist – that the victim was less than 14 years old at the time she was killed – therefore Morgan faces a maximum sentence of life in prison without the possibility of parole, if the trial jury agrees when it renders its verdict.
If convicted of second degree Endangering the Welfare of a Child, Morgan faces a maximum sentence of 10 years in prison.
If convicted of third degree Interference with Custody, Morgan faces a maximum of 5 years in prison.
Despite these charges, every defendant is presumed innocent, unless and until found guilty beyond a reasonable doubt, following a trial at which the defendant has all of the trial rights guaranteed by the U.S. Constitution and State law.
This case is being prosecuted by Monmouth County First Assistant Prosecutor Marc Lemieux and Monmouth County Assistant Prosecutor Jordan Williams. Morgan is being represented by Jeffrey Coghlan, Esq. and Ryan Morairty, Esq., both of Freehold.