Jury Verdict Means Sentence of Life in Prison Without Parole
(FREEHOLD) A jury found Arthur Morgan, 3rd, guilty Thursday of the 2010 murder of his 2-year-old daughter, Tierra Morgan-Glover, announced Acting Monmouth County Prosecutor Christopher J. Gramiccioni.
The jury of five men and seven women rendered its verdict to Monmouth County Superior Court Judge Anthony J. Mellaci, Jr., J.S.C., shortly before noon Thursday finding Morgan guilty of first degree Murder, second degree Endangering the Welfare of a Child and third degree Inference with Custody. "First Assistant Prosecutor Marc LeMieux and Assistant Prosecutor Jordan L. Williams are to be commended for presenting a solid case to the jury and providing justice for the senseless death of an innocent child," Gramiccioni said. "Little Tierra can now rest in peace."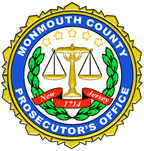 Morgan, 29, with a last known address in Eatontown, is scheduled for sentencing before Judge Mellaci at 10 a.m. on May 26, 2014. Morgan faces a sentence of life imprisonment, but because the jury agreed with the Monmouth County grand jury that found an aggravating factor to exist – that the victim was less than 14 years old at the time she was killed –Morgan will now face a maximum sentence of life in prison without the possibility of parole. The second degree Endangering the Welfare of a Child charge comes with a maximum sentence of 10 years in prison, and the third degree Interference with Custody carries a maximum of 5 years in prison.
Morgan was found guilty of murdering his 2-year-old daughter on evidence presented at trial as part of a joint investigation by the Monmouth County Prosecutor's Office and other law enforcement agencies, after the young girl's fully-clothed body was discovered by a group of teenagers, strapped into a car seat weighted down by a carjack, submerged in the stream below an overpass located on Schoolhouse Road in the Shark River Park section of Wall on Nov. 22, 2011.
"I want to thank the men and women of our Office, Ocean County Prosecutor's Office, Lakehurst Police Department, Wall Township Police Department, Ocean Township (Monmouth County) Police Department, U.S. Marshal's Service, Monmouth County Sheriff's Office and all the agencies who lent a hand in bringing this case together – they are all responsible for delivering this verdict," Gramiccioni added. The case was prosecuted by Monmouth County First Assistant Prosecutor Marc LeMieux and Monmouth County Assistant Prosecutor Jordan L. Williams. Morgan is represented by Jeffrey Coghlan, Esq. and Ryan Moriarty, Esq., both of Freehold.