Photos by Edward Thomas
By Patty Booth O'Neill
It was a sad day on Monday as Sixty-year Pedro Macias from Elizabeth New Jersey, originally from Cuba, climbed the radio tower in Long Branch that evening with the intention of committing suicide. Macias worked for National Microwave, a company that installs microwave and cellular antenna system on towers. Macias was an experienced tower climber and had worked on that particular tower a week ago servicing it for Verizon. Macias has worked for National Microwave on and off  for 15 years, according to Long Branch Safety Director Jason Roebuck.
A call  went out to Long Branch Police on Monday that an unknown male was climbing the old Y107 radio tower located south of Broadway off Memorial Parkway and Belmont Ave.
Macias was wearing a professional utility belt used by workers whose job would involve climbing such a tower. Ed Thomas of Long Branch was video taping the incident thinking the man was working on the tower. The video shows Macias stopping on his way up, calmly having a cigarette, then continuing the climb, fiddling with wires seeming to do repairs along the way.
"I thought he was a worker," said Thomas. "I've never seen anyone on that tower so I decided to video it. It took him about 45 minutes to get to the top, but he looked like he knew what he was doing." Upon reaching the top of the tower  Macias hooked up his harness and remained by the flashing red light located at the very top for a while, freeing his hands while letting the harness support his weight. He swung around from side to side, then sat on the huge antennas for a number of minutes, looking around and down at the crowd which had amassed on the sidewalk below. There were a number of police and emergency vehicles including an Asbury Park Fire Department's Technical Rescue Unit.
At some point Macias disconnected his harness and swung himself with his hands around the top of the tower and let go flinging himself off. He landed on the roof of one of the condemned vacant  buildings next to the tower, went through the roof and landed on the second floor.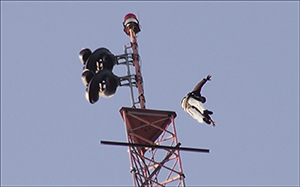 Macias did not survive the fall.
Police and firemen could not enter the building as it was deemed unsafe.  A hole was cut into the side of the building and then the Asbury Park Fire Department's Technical Rescue Unit recovered the body and lowered it to the street below.
Police are studying the video by Ed Thomas to see exactly what the actions by Macias were.
Soon after the incident rumors began to fly that Macias was upset because he was have problems with his partner and she would not allow him to see his kids. It was also said that he told people he was going to climb the tower and jump. Not of this has been confirmed.