Shrewsbury Volkswagen Aided in Ocean Township's Annual Thanksgiving Charity.
Tinton Falls, NJ, November 22, 2014– Shrewsbury Volkswagen, located at 702 Shrewsbury Ave gave thanks this past weekend as they contributed with Ocean Township's annual Thanksgiving Holiday Assistance Program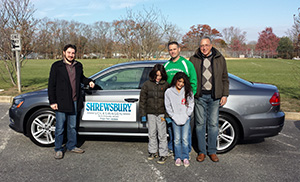 Shrewsbury Volkswagen worked closely with Ocean Township's Community Hope Fund, a nonprofit organization that promotes youth development and supports charitable needs, in their Thanksgiving Food Drive this year. Shrewsbury Volkswagen donated three vehicles to be used and employees of the dealership volunteered their time for the day to help distribute food baskets to families in need.
The Thanksgiving Food Drive has been a success as these meals serve approximately 150 families and individuals in the area each year. Shrewsbury Volkswagen is thankful they were able to contribute their time to this worthwhile cause.
About Shrewsbury Volkswagen
As the number one dealer in Central Jersey, Shrewsbury Volkswagen takes exceptional care of customers well after they have made their investment.  They have been family owned and operated in Central Jersey since 1984 and since then they've been elevating Volkswagen know-how in every aspect to make sure your visit is exceptional. Customer satisfaction is their top priority and they want to make each and every car sale as pleasant and hassle-free as possible. They will also take care of regular maintenance and check-ups to ensure your Volkswagen is running in prime condition, and give professional care at a low cost to you