West Long Branch – Shore Regional welcomed over 200 potential students to its 8th grade Orientation last week. The visitors were welcomed at the door and received a complete packet explaining the evening's tours and filled with pamphlets and information showing all that the high school has to offer.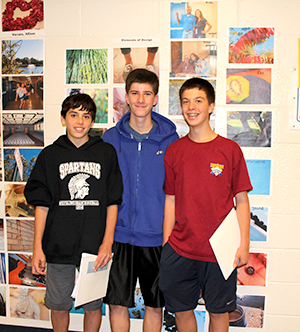 Principal Vincent Dallicardillo greeted the potential students and family members as he explained to them that it is an anxious time as one tries to make the "right" decision in terms of just which "Class of 2019" their child should join next September.
"Parents of children in Monmouth County are fortunate to have many high school options, and as with any such decision, it is important to gather as much information as possible about each potential choice prior to making that decision" he said.
Visitors were separated into groups and began touring the facility as they made their way to the newly renovated RTO Information Center and visited the lounge area, books and media equipment and the new "3D" Printer.
Visitors traveled down other hallways and were able to view the renovated presentation room/testing center with 65 interactive TVs, 21st century flexible seating, Samsung tables, and Chromebooks.
In addition to the academic classrooms, the tours included the Dance studio, Art Studio, Cooking/Sewing room, Wood shop and the MAC lab for Video Production. Science Labs, World Language rooms, Band Room, Athletic Training Room and Fitness Center were also part of the tours. Potential students also received information on the 46 co-curricular activities and 21 sports programs available at the high school.
Following the tours those interested were invited to attend an information session with Administrators on the International Baccalaureate Program (IB) that Shore Regional offers. (1 of only 12 Public Schools in the state to offer the program).
In total well over 400 visitors got to see Shore Regional at their finest and take part in an impressive evening of presentations, tours, and information sessions showing the high school as a viable option for incoming students.
To view videos shown to perspective students visit:
• youtu.be/4vvey-LbX70
• youtu.be/sWPPe02iAag
• youtu.be/i5pHIltpdgs
• youtu.be/foZ-U8iTrBo
• youtu.be/i06w4QMtAjA.