Heroes roamed the halls of Shore Regional last week to let the students see the real meaning of Veteran's Day.  Service men from the Korean War, Vietnam, Pearl Harbor, and 9/11 visited and spoke with Shore students and shared stories that aren't in History books.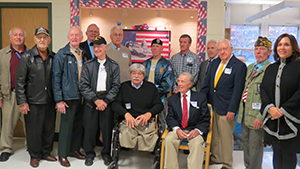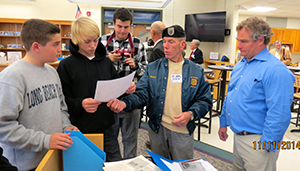 It didn't matter if  they were Army, Navy, Marine or Air Force, the men were there to engage the students, and have them appreciate the history and sacrifices of a veteran.  The men brought scrapbooks, shared stories, answered questions and gave insights that are simply not taught in a History class.  For some of the men, it was the first time they spoke about their time at war.
The veterans had breakfast and a "meet and greet" with students, staff and faculty early in the morning and then broke up into escorted groups to speak to various classes.  They then enjoyed a lunch with some Shore students as the stories and questions continued.
Jim Simonelli, Interim Vice Principal and one of the organizers of the day, called it "a successful collaborative effort that allowed our students to see who real heroes are".  "And the veterans got to see that our future is in good hands with the great kids we have here at Shore Regional."
The visiting veterans were: Jimmy Bacolo; Billy Golding; Frank Kirkstad; Mauro Bacalo; Anthony Migliaccio; Mike Ruane; Mike George; Ralph Jefferies; Tony Pusateri; Alden West; Frank Pingitore; Bob Musari; and Walter Frattin. The Shore students gave the men an astounding round of applause after they spoke and seemed to really appreciate the veterans taking the time to come to their school.
"We thought this program was better than students sitting home on a day off and maybe not appreciating the veterans or the meaning of Veteran's Day," said Superintendent Thomas Farrell.
For more photos and info see this week's copy of The LINK News