By Neil Schulman
Long Branch — The West End School building has been sold to the New Jersey Repertory Company, which plans to build a 225-250 seat theater, hold acting and playwright workshops, exhibit photos and paintings, and do many other things to expand the arts in Long Branch.
O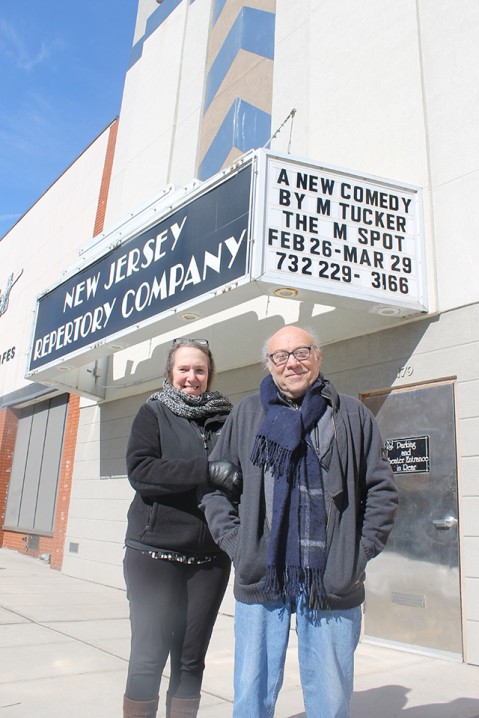 n Feb. 18. the Long Branch Board of Education voted to accept an offer from New Jersey Repertory Company to purchase the closed school building for $2.25 million.
Dr. Gabor and SuzAnne Barabas, owners of NJ Repertory Company, were ecstatic last Thursday when they learned their bid had been accepted.
"I think this is a rare opportunity, and I think this is a transformative moment," Gabor said.
NJ Rep intends to keep operating its current theater at 179 Broadway. But after 18 years, the popular 68-seat theater has been running into space limits.
"With the last couple of shows, we had to turn away hundreds of people," Gabor said.
Part of the reason has been the caliber of shows it's attracted. With its dedication to focusing on new productions, NJ Rep has attracted big names and high profile scripts.
"Early on, we had (Academy Award Winner) Kim Hunter here, in 'On Golden Pond,'" Gabor recalled. The play set to open Feb. 26, The M Spot, stars Michael Tucker and Jill Eikenberry, both known for L.A. Law.
Several plays they have put on have been licensed to theaters around the country, and last year's mob-themed "Dinner With The Boys," is opening up on off-Broadway.
In addition to a larger theater, the new building in West End will allow NJ Rep to offer more acting classes, playwright workshops, and other programs.
Some Long Branch students might find themselves revisiting the building, since NJ Rep has worked well with the schools before. Gabor said that they had worked with Superintendent Michael Salvatore on getting students to participate in a young playwright workshop. That class won an award from the Monmouth Arts Council. He's also worked with the school on poetry events.
A bigger space will allow them to expand all these programs.
"We want to make something really special for that area," SuzAnne said.
When NJ Rep opened 18 years ago, it had two goals in mind. One was to expand the arts locally. The other was to serve as a way to revitalize the community. It was one of the first projects in Long Branch with that goal.
"This was before Pier Village," said SuzAnne. One of the aims of the theater had been to attract people back to the city, and it's worked.
Gabor and SuzAnne believe that there is a great opportunity to work with West End businesses, helping out that community as well. The number of bars and restaurants there make it attractive for theatergoers, looking for a bit to eat before or after a show (and several of the places are favorites spots for actors). There are opportunities for dinner packages.
Gabor said that Long Branch has a rich history of theater. And West End has been a big part of it. It's already a significant part of the city's entertainment scene.
While they're still working out the details, they say one of their goals in the coming months will be to get the funds for the renovations.
"We want to make sure this is the jewel in the crown of Long Branch," said SuzAnne Barabas. "And we need the community support in so many ways."
School officials also reported they were happy with the sale.
"The Long Branch Board of Education voted in favor of accepting a bid for the purchase of West End School. The amount, $2,250,000 … will be designated for tax relief and the reconstruction of the 'old' Long Branch High School," said Dr. Michael Salvatore, Superintendent of Schools.
He said that he was looking forward to the results.
"We feel the intentions of the buyer are extremely beneficial to the West End community and we hope to encourage partnerships with the group for our Visual and Performing Arts students,"
"Several contingencies exist with the proposal, which include zoning authorization and site examination," Salvatore said. "We are confident this plan will satisfy the various authorities and become a reality within the near future. If all contingencies are met, we could be looking to exchange keys before the summer season."
According to the resolution approved by the Board of Education, the new building will be used not only as a 255-250 seat theater, but a sky-lit atrium for the lobby.
The building can only be used for certain purposes: as a theater, and to provide education and support for the arts (not just acting, but music, photography and other forms).
This is the second attempt to sell the building. The Menachim Learning Institute, affiliated with Chabad of the Shore in West End, had intended to open a learning center there, making an offer in 2014. However, that deal fell through when Chabad said it was unable to obtain the mortgage for the property.
Originally published in the Feb. 26, 2015 Link News