The annual Monmouth Teen Arts Festival, produced by Monmouth Arts in Red Bank, brings teen visual and performing arts students together in celebration of the arts, to receive critical feedback on student work over two days of scheduled workshops, evaluations, exhibitions and performances.  Exhibitions and performances will showcase the creative talent and ambition of the teens.  Disciplines include:Visual Art, Video, Creative Writing, Vocal, Instrumental, Jazz, Dance and Theater.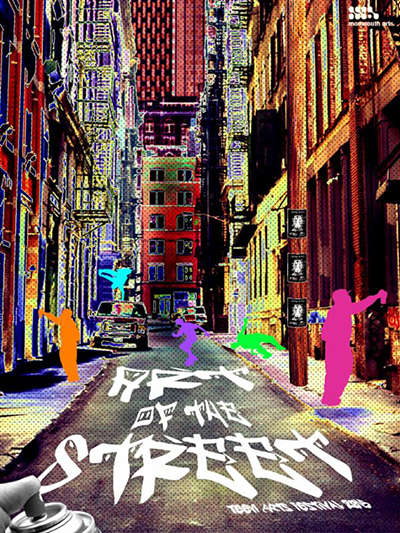 Nearly 1800 students from 30 schools will attend the 2015 Monmouth Teen Arts Festival:  Art of the Street, presented in partnership with Brookdale Community College, Lincroft.  The festival will be held in the arts facilities on campus:  the Center for Visual Arts, the Performing Arts Center and Collins Arena. Monmouth Museum, adjacent to the Center for Visual Arts, participates in the fun by hosting a Scavenger Hunt each day in Nilson Gallery.  The two-day festival, with an opening reception kicking off events the night before, has become an integrated part of county wide arts education in Monmouth County annually.
Workshops and master classes offer students from different schools an opportunity to interact while individuals and school groups receive evaluations in their selected disciplines.  The theme, Art of the Street, will be showcased in many workshops.  The Liquitex sponsored workshop will provide spray paint, acrylics and paint markers to tag sections of canvas that will form a large collaborative mural sculpture.  Post-it responses to artist quotes will line the corridor to the CVA Gallery.  Students will create vinyl decals with graphic design software.  Afro-Brazilian dance and drumming takes performance out of classrooms and onto the grass and patios on campus.  Kids will learn dance from a Broadway Choreographer while others are exposed to the backstage magic of stage production and theater make-up.  Ending the day, and always a crowd-pleaser, will be an open-mic session. The Brookdale campus buzzes!
Teens proudly display their hard work through exhibitions and performances and are eager to hear feedback from evaluators who are professional artists in the field.  Though the festival is not a competition, outstanding performances and products are selected as Top of the Top.
Aireon Vreeland, Art Teacher at Coastal Learning Center in Howell, highlighted one of her award-winning students, who is living with physical disabilities in a difficult home environment.  She shared:
"When he learned his piece was chosen [to be recognized during the post-event Arts Education Award Ceremony], he took it home like a grand prize for his grandma.  He lives with many other siblings in a poor environment and this recognition made his whole world.  He now feels important, and realizes even more than before, yes, he has art talent."
Exceptional student work is chosen by the evaluators and will be highlighted as Top of the Top at the annual Arts Education Awards & Showcase in May.  Arts Education Advocates, Arts Educators Leaders & Community Arts Champions will be recognized for their outstanding commitment to the arts and to arts education.
Monmouth Arts supports arts education for our talented youth and is the only organization with the capacity to offer an event of this size through its network of schools, teachers and community leaders.
About Monmouth Arts
Monmouth Arts is the official county arts agency, with a mission to "enrich the community by inspiring and fostering the arts."  The programs of Monmouth Arts, such as the Monmouth Teen Arts Festival, are made possible in part through funding from the Monmouth County Board of Chosen Freeholders, and the New Jersey State Council on the Arts; additional support comes from the Geraldine R. Dodge Foundation, New Jersey Natural Gas and the Horizon Foundation of New Jersey.