On Monday night there were 26 mph winds along the beach in Long Branch and it proved too much for the new blades that were installed over the summer.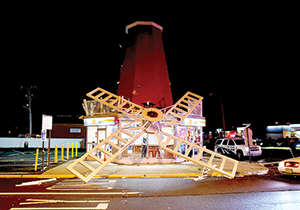 No one was hurt and the West End Windmill on Ocean Avenue, a Long Branch landmark, is open for business as usual today, according to Aaron Levine, son of co-owner Steve Levine. Aaron, owner of LG Insurance Agency, happens to be the agent of choice in the matter, so all will be well taken care of.
The original blades, which had survived countless storms and weather conditions since the 60s finally met its match in Superstorm Sandy. They were damaged and it was thought by owners Steve Levine and his sister Rena Levy that it would be safer to have new ones installed. The current blades had LED lights that constantly changed colors.
Long Branch police and firemen had the scene taped off, but debris from the blades was being blown around by a strong, gusty north wind.
No one was hurt in the accident, but people inside at the time said they became alarmed when the  building started to shake. "We thought it was an earthquake," said one person. "The windows started rattling and then, bang, the windmill fell off the building."