Courtesy: Monmouth Sports
West Long Branch – For the first time in its Division I history, the Monmouth men's basketball team won its 22nd game of the season Monday, defeating Manhattan 79-70 at The MAC. The win tied a program-high in consecutive wins with eight as Micah Seaborn (Fort Worth, TX/Prime Prep Academy) scored 22 points and Justin Robinson (Lake Katrine, NY/Kingston) added 20 more. MU is now 22-5 and 14-2 in conference, while Manhattan falls to 11-13 and 8-7 in league.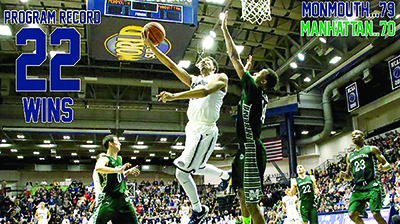 "Tonight, Micah Seaborn got going, Justin Robinson got going, and I thought Je'lon Hornbeak was tremendous defensively and hit some big shots," said head coach King Rice. "I'm so proud of all these kids."
Shane Richards hit a three with 11:57 to go to make it a three-point Monmouth lead, but the Hawks answered with back-to-back buckets from Josh James (Greenburgh, NY/Archbishop Stepinac) and Seaborn to extend the lead back to seven. Seaborn's triple at 8:45 widened the gap to eight at 63-55 with 8:45 remaining. Zane Waterman chipped away twice in the next two minutes, hitting a pair of jump shots to get the Jaspers within six, the closest they would get down the stretch in the second half. MU immediately answered with consecutive strong drives from Austin Tilghman (Wilmington, DE/Archbishop Carroll [PA]) to go up 10, and the Jaspers would get no closer than nine after that in Monmouth's win.
Seaborn drove end-to-end and finished to extend the lead to 12 at 4:59, and after Richards hit three foul shots, Seaborn stole and scored again, this time drawing contact to convert a three-point play. Manhattan trimmed it to nine on Thomas Capuano's basket in the final minute, but Je'lon Hornbeak (Arlington, TX/Grace Prep [Oklahoma]) raced the floor and hammered home a breakaway dunk to put the finishing touches on the victory.
The Hawks came out of the locker room and quickly pushed the lead to nine on the break, as a triangle of passes ended up with Chris Brady (Greenlawn, NY/Harborfields), who flushed a dunk to make it 43-34 at 18:25. The Jaspers got within three at 15:34 on a Rich Williams jumper, but a 6-0 Hawks run including three free throws from Robinson and a three-ball from Hornbeak made it a nine-point game again.
Monmouth led 38-32 at the half, scoring the final six points of the half after it was tied at 2:51. Seaborn took an inbounds pass with 1.1 seconds showing and knocked down a baseline jumper at the horn to send MU to the locker room with a six-point lead.
Monmouth started on an 8-0 run, including a pair of baskets for Deon Jones (Wilmington, DE/Sanford School [Towson]) and went up 11-2 when Jones converted a three-point play. MU led by as many as nine in the opening half on Seaborn's triple at 14:39, but Manhattan rallied to tie on a Calvin Crawford foul shot at 10:15. The Blue and White took a five-point lead at 6:59 on a Seaborn triple, but Crawford again tied it with free throws before MU took a six-point halftime advantage.
Seaborn led Monmouth with 22 points and six rebounds, adding in four assists and three steals. Robinson pitched in 20 with three assists in 38 minutes, while Tilghman netted nine. Brady grabbed six rebounds for the Hawks, who shot 50% from the field, 35.7% from deep and 75% from the foul line.
Crawford contributed 22 points and eight boards for Manhattan, while Rich Williams scored 20 off the bench and had six caroms. Shane Richards and Zane Waterman also found double-digits for head coach Steve Masiello, whose team shot 42.1% from the field and 25% from the outside.
Monmouth returns to action on Friday night for a 10:00 p.m. home contest with Iona. The game is slated to be broadcast on ESPNU.