By Coleen Burnett
West Long Branch — At the Borough Council meeting on February 3, Paul E. Habermann was sworn in as the town's new police chief. Habermann, who had been serving in the rank of Captain, succeeds Larry Mihlon, who retired on February 1.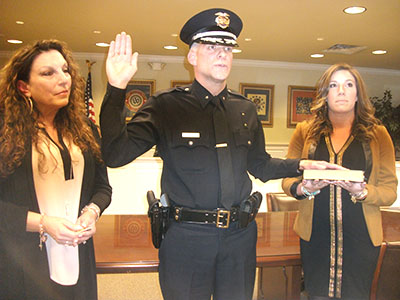 The council chamber was packed with friends and family. Also attending the ceremony were many members of the local law enforcement community, including Mihlon, past West Long Branch Police Chief Artie Cosentino, former Long Branch Pubic Safety Directors Louis Napolitano and William Richards, former Long Branch Police Captain Wesley Mayo, and current Eatontown Police Chief Michael Goldfarb.
Habermann actually began his law enforcement career in Long Branch, where he served three years as a patrolman before moving to West Long Branch to continue his career. Mayor Janet Tucci noted that he was the first D.A.R.E. Officer in the borough. (The program has since been revamped and is now known as L.E.A.D.)
"I am sure he will serve the borough with professionalism and pride," she said.
Habermann was modest and low-key in his remarks.
"I'd like to thank you all for being here," he said. "I want to thank the Council and Mayor for having the faith in me to become Chief.
"I also want to say a leader can't do the job without the people —and it's my job to lead the people of the West Long Branch Police Department into the future. God bless you all, and thank you."