Eatontown – It was standing room only at Memorial School last night as hundreds of people were on hand to voice objection to the proposed $500 million dollar renovation of Monmouth Mall.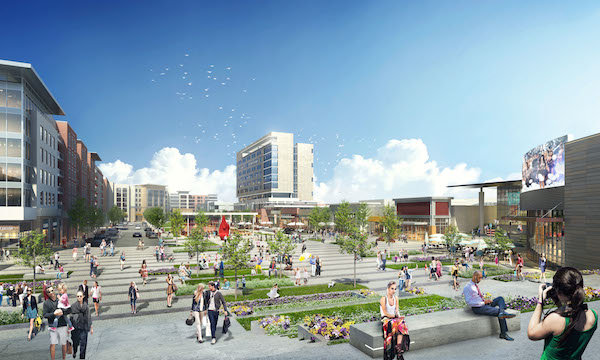 Nine months ago the Kushner family of Long Branch, owners of the mall, unveiled a plan that would totally transform the mall into a 24/7 live, shop and play destination. The plans included housing, a hotel and completely redesigned shopping experience.
At the meeting on April 27, at the Memorial School, it started off with disagreements and finger pointing from the governing body and residents on transparency of this project.
Jennifer Bernell, director of development for the Kushner Companies, was the person everyone in the room was waiting to hear speak. "I just spoke with the Kushner family and we had felt over the past nine months that we were making great headway in terms of working with the municipality in improving (Monmouth Mall) and devoting incredible resources. Given the response tonight, we realize that these changes are not welcome and we are planning to leave the mall as is. So thank you very much," said Bernell.
When Bernell finished her statement she and the other Kushner representatives then left the meeting. Those opposed to the project applauded while a few of the governing body members looked totally surprised and disgusted.
Dennis Connelly, mayor of Eatontown, said that the decision by the Kushner family to walk away was based on misinformation spread by a group of residents who did not support the project.
"It's a sad day," Connelly was quoted as saying after the meeting. He and a few other council members attempted to set the record starting and posted information on the project on the borough's website. "This property is not a small part of our town, it's the biggest business, our largest ratable. It was a project that should have been moved forward. This was a bad message for our town to send."
Kushner, which also owns Pier Village in Long Branch, bought out its partner in Monmouth Mall for $38 million in 2015. They had hoped to create the mall into a mix use of open space, enclosed retail shopping, restaurants, entertainment, and apartments and a hotel.