By Teja Anderson
It truly can be said, that in life, everything is timing. Our triumphs, our failures, even our fates can often come down to being at the right, or the wrong place at the right or the wrong time. Never has it been as clear to me as in these past few days. Sometimes it's seconds, sometimes minutes, sometimes hours – or sometimes a day that would have made a world of difference in how things turned out.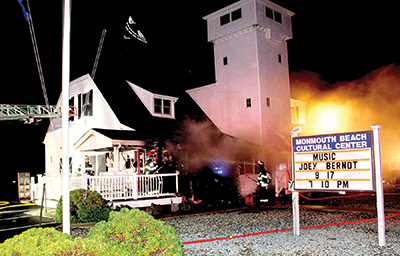 When I woke up Monday to heavy rain, all I could think of was "Why wasn't it raining like this yesterday?" If it had been, our beloved Cultural Center, the former Coast Guard station would most likely not have caught fire and been badly damaged, ruining psyches, paintings, photos, artifacts and the entrance foyer and front porch.
The pre-dawn fire, which is still under investigation, was most probably started by a tossed, lit object (cigarette, match, candle, firework, candelabra) where it smoldered in the dry mulch for a while before the wind picked up and blew it into the bushes in front of the building. Again, these are not facts, but my own educated guesses and those of first responders I spoke with at the scene, where it was easily apparent that the fire had started on the outside of the structure.
As we had been without rain for weeks, the bushes were also dry and most likely burned easily, and with the wind blowing just the right way, or in this case wrong way, probably catching the outside of the building on fire as well.
The good news is that someone saw it as they drove by on Ocean Ave and called it in and the response from our own MB Fire Company, who were the first on the scene and many others was immediate. They were able to contain the fire to the one room and limit the amount of smoke and water damage to a minimum in the rest of the over 100 year-old building!
By the time I got there, at 6:35 a.m., the fire was out and there were an impressive number of firefighters, police and first aid on scene. I also saw units from Sea Bright, Long Branch, West Long Branch, Little Silver, Oceanport, Asbury Park, Neptune and Rumson. Highlands and Deal that covered us in town.
It was heartbreaking to see the damage though, like a gaping, blackened wound on the face of the white front, and I would have burst into tears if Charlie Scott hadn't come up just then and distracted me with his camera, offering me the card from it which contained digital photos of the actual fire.
As I headed back to my car, clutching the precious photo card, I saw Betty Heath standing alone in the parking lot, her face mirrored my own, and the tears finally came.
We walked over to the south side of the building where the fire fighters had gently placed some important items: the duck decoy case, the Galilee Fish Company box and several old framed photos which documented our town's wonderful history. Everything was covered in soot, and there was a lot of broken glass from the heat, but there was hope at least that much could be cleaned and saved.
The MBCC is not just important because of its history; it has served as the heart of our community since Super Storm Sandy, even though its location is at the north end of town.
While FEMA and insurance monies and red tape have held up the rebuild of Borough Hall for almost four years now, the Center, which was also badly damaged by the storm, was cleaned out, repaired and refurbished in record time due strictly to the efforts of volunteers in the community who gave of their time, services, money and materials, allowing them to be back in business just months following the storm.
They were able to host all the town's community groups, organizations and committees for their meetings and programs, as well as serve as a venue for artists to display and sell their creations and for people to hold parties, reunions and get-togthers.
In fact, the latest concert in the 2016 RL Keller Music Series was hosted there the night before with Joey Berndt (yes, that is pronounced "burnt," which is a weird coincidence) and his band.
Some at the scene the next morning were quick to speculate that someone at that concert could have been smoking in the front of the building and tossed their cigarette down in the mulch. However, if in fact it was a cigarette that started the fire, it could also have come from a fisherman, surfer, dog walker or beachcomber leaving the beach in the early morning, or it could also have been tossed from a car window from some careless person.
Just last month I chased a local woman to her house on Tocci Ave. and reprimanded her for throwing her lit cigarette out the window of her car as she came over the Patten Ave. Bridge right in front of me! Luckily that day the ground was wet.
If only it had rained a day earlier here.
An example of fate and timing by less than an hour also happened this weekend, this time with a positive outcome. The pipe-bomb-style device that was detonated in a garbage can in Seaside, at what would have been the start of the route of a Marine Corps charity race at 9:35 a.m., luckily injured no one because problems with the 5K races registration had delayed the 9:30 a.m. start time.
Another stroke of lucky timing, this time down to minutes was for my daughter Olivia, a sophomore at the New School in Manhattan on Saturday evening. After picking up her dinner at Wholefoods on 24th Street and 7th Ave around 8:20 p.m., she walked right past the dumpster on 23rd and 7th that a bomb exploded in minutes later, injuring 29 people (thankfully not seriously) just as she returned to her dorm room three blocks away.
But when it comes down to seconds that determine fate, heavy on my mind as we mark the one-year anniversary, is Stacey Gregerson Weather's untimely death on October 3. Just a year ago, Stacey, who grew up in Monmouth Beach, was traveling on Route 34 in Colts Neck when the top of a tree fell on her rental car, killing her instantly.  A few seconds either way and this beautiful, vibrant, gifted and caring mother, wife, daughter and friend would still be with us.
So, the next time you forget your keys and have to backtrack, or the person in the grocery line ahead of you is taking forever…take a deep breath and acknowledge that even just a few seconds wasted or gained in your life each day might change the outcome. And to all you smokers out there, and in full disclosure, I admit years ago I was one of you, please, please, please discard your butts responsibly.
A message from Keller
This was posted by Richard "Dickie" Keller Monday along with his photos:
"As you have probably heard, there was a fire at the MB Cultural Center early this morning. Our office and History Room received extensive damage and we will be temporarily closed until we have an opportunity to make the necessary repairs. On behalf of the Board of Trustees I would like to thank our Fire Company for their quick and effective response, not only preventing a greater scale of damage, but also taking care to protect many of our historical artifacts and photos.
"They went above and beyond and it is greatly appreciated. I would also like to thank the volunteer work crew and Boro employees who came together in moment's notice to get the building closed up, secured and safe. This is just another challenge we have to overcome, but we will do it and be back and running full steam as soon as possible. Thanks again for your support."
Donations for the rebuild can be sent directly to the MB Cultural Center 128 Ocean Ave, MB, NJ 07750