By Neil Schulman
Oceanport — Why did Mayor Jay Coffey bring bottles and bottles of milk to the Sept. 15 Borough Council meeting? To send a message to Sen. Jennifer Beck that it hasn't been spilled yet.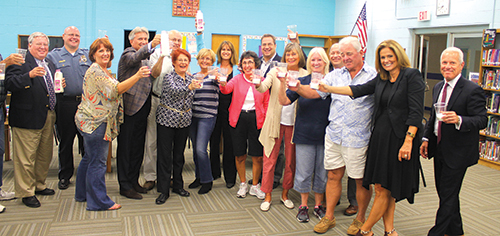 In a Sept. 7 article on the future of Monmouth Park in the Asbury Park Press, Beck said that she believes the fact Monmouth Park could get an extra $2-3 million a year from the November ballot proposal to allow casinos in North Jersey is something worth pursuing.
"At some point you have to stop crying over spilled milk and deal with what's in front of you,'' Beck, whose legislative district includes Oceanport, told the Press. "This provides an opportunity for Monmouth County to keep Monmouth Park. We're only going to be able to keep these horse farms for so long, and when they're gone we won't be able to get them back.
Coffey, who has said the proposal is horrible for Monmouth Park – and all of central New Jersey – was upset when he read it.
"This is the lady who spilled milk on us," he said at the Sept. 15 meeting. "For her to have the gall to say Oceanport is stalling it."
So, to demonstrate his point, he brought milk for all the attendees of the meeting to have a glass.
"I'll be damned if I'm going to stand here and say we're crying over spilled milk," Coffey said.
On Election Day, voters will be asked to decide on a constitutional amendment to allow two casinos in the state, outside Atlantic City  and at least 72 miles from it.
Oceanport officials oppose the proposal, saying that it fails to protect their interests. In all surrounding states, casinos at racetracks are used to supplement the racing purses, attracting a higher caliber of horses and helping the state's equine industry.
From 2004-2010, Atlantic City paid $176 million to supplement racing purses, about $25 million a year. Christie then vetoed a bill to continue that funding.
No actual arrangements have been set up over how the state's proceeds from the casino would be used. While talks have said Oceanport could get a couple of million dollars a year, Coffey said that was a "slow bleed," an nowhere near enough to keep tracks competitive.
He's skeptical is Oceanport would even receive that, given how many different groups in the state are competing for the proceeds.
"If there's eight piece of pizza in this pie, there's 30 hands reaching in."
The 72-mile limit was specifically designed to prevent casinos in Monmouth County at the track. But Coffey said a simple set of slot machines and similar devices could probably be installed for $500,000 — much less than the estimated billion-dollar tag for North Jersey. The track is already set up to accept wagers, and this is a common arrangement in other states.
A resolution passed by council that evening opposing the ballot question, and urging people to vote no, called it "too restrictive," and said "Central Jersey's interests are ignored in favor of protecting and/or advancing North Jersey's and South Jersey's interests."
It called for rejecting any measure that does not protect Monmouth Park, either by allowing slots at the track, or guaranteeing a good revenue sharing option.