Long Branch — Celebrate the 25th birthday of the Elberon Branch Library with a Historic Trolley Tour!
The tour takes place Sunday, August 27 from noon to 5 p.m. beginning at the Elberon Branch Library, 168 Lincoln Avenue.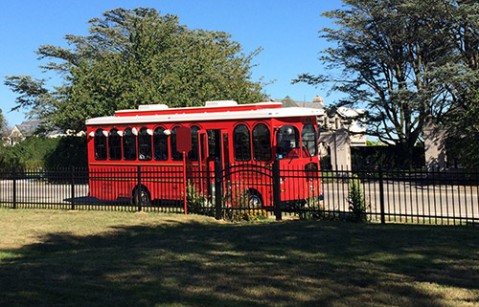 This very special event is co-sponsored by the Long Branch Historical Association and the Long Branch Historical Museum Association.
Ride the trolley and take a guided tour of three of Elberon's historic sites:  the Elberon Memorial Church, the Ross Island Hut and the Church of the Presidents Museum.
Admission is free and is limited to the first 60 to RSVP. The Tour will conclude at the Elberon branch with a birthday reception.
For more information, please call Lisa Kelly at 732-222-3900, ext. 2350.
Free lunches for children
This summer, the Main Library is offering free lunches for children and teens through the age of 18, through August 25. The food has been provided by Fulfill, formerly the FoodBank of Monmouth and Ocean Counties, with funding from the US Department of Agriculture. The meals will be served Monday thru Friday from noon-2 p.m. Every child will receive a protein, vegetable, fruit and milk.
Meals are eaten in the Community Meeting Room under the supervision of library staff. A family movie appropriate for young viewers may be screened occasionally while the children are eating lunch.  Meals are free and no registration is required.
For more information, please call the library at 732-222-3900.