Ocean Township — LADACIN Network's Executive Director Patricia Carlesimo was honored with the Athena Award on November 3 by the Monmouth Regional Chamber of Commerce. Created in 1982, the Athena Award is an international award that celebrates the potential of all women as valued members and leaders of the community and is awarded to individuals who strive toward the highest levels of professional accomplishment.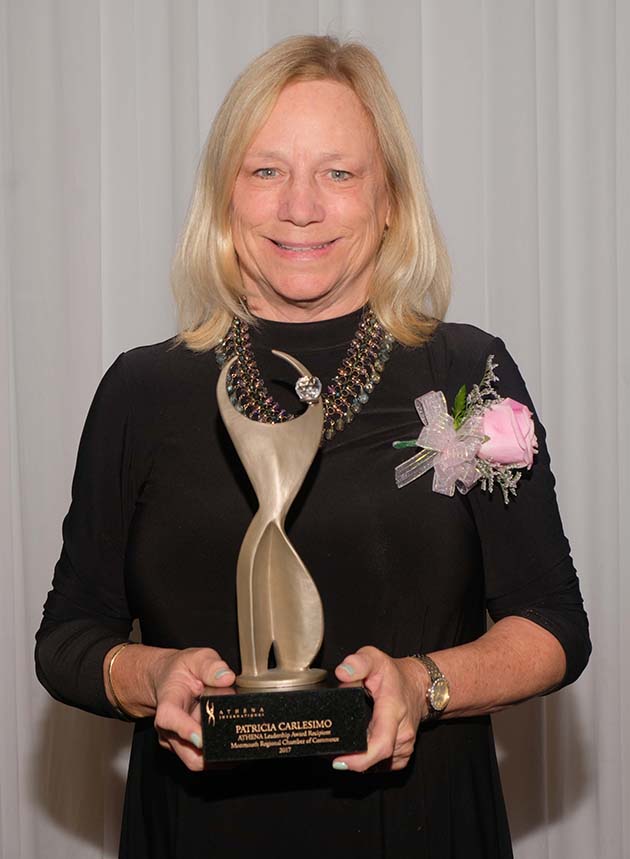 LADACIN Network is a local non-profit Agency that provides a continuum of care including educational, therapeutic, social, residential and support services to infants, children and adults with complex physical and developmental disabilities and delays living in Monmouth and Ocean Counties.
Carlesimo has been employed by LADACIN Network for the last 38 years, beginning her career there as a Speech Language Pathologist in 1979 and holding several different positions over the years. She was named Executive Director in 2004.
Carlesimo is also the Chairperson of the Services to People with Disabilities Committee of the Monmouth County Workforce Development Board, serves on the Board of the Central Jersey Blood Center, is on the Executive Committee of the Association of Schools and Agencies for the Handicapped (ASAH) and is the immediate Past-President of the Board of the Alliance for the Betterment of Citizens with Disabilities.
She currently serves on the Monmouth County Human Services Advisory Council. She was honored with the ASAH President's Award in 2016 for her work with that organization.
Carlesimo received her Bachelor of Arts degree in Linguistics from Skidmore College and her Master of Arts degree in Speech Language Pathology from New York University. She lives in Rumson with her husband Buddy and has three children and four grandchildren.
For more information on LADACIN, go to www.ladacin.org
.