Long Branch — Lines formed outside St. Michael's Church on Monday morning before the church opened, hundreds of mourners braving freezing temperatures and bitter wind. No one was detered.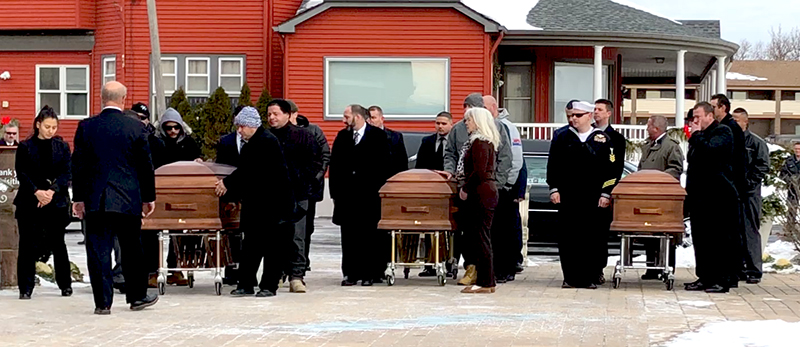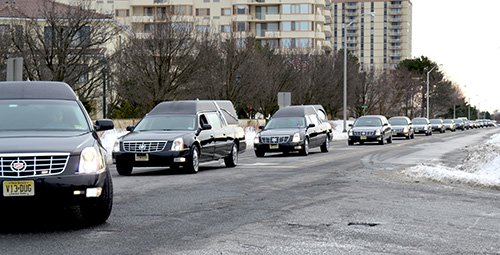 They were attending services for Steven and Linda Kologi and their daughter Brittany, who were killed New
Year's Eve during a shooting at their home in Long Branch.
Also killed was Mary Ann Schulz, who's mass was held Saturday at St. Jerome's in West Long Branch.
Escaping the house were Steven's father Adrian, 20-year-old Steven Kologi Jr. and an unidentified woman in her 20s.
After mourners filed into a packed St. Michael's, three caskets were lined up on the sidewalk in front of the church, Brittany was placed between her parents.
There were a noticeable amount of young mourners present to honor Brittany's and her parent's memory, most in tears. They had many friends and family.
A booklet was handed out relating the lives of Steve, Linda and Brittany.
Steve, born in Long Branch and a graduate of Long Branch High School was only 42 years old, and Linda was 44. Brittany, a graduate of LBHS and  a student at Stockton University, was only 18.Father John Butler spoke about how Jesus was symbolized by the light of a large burning Easter candle in the church.
"The light that conquers death," he said. "The same candle that burned brightly when Brittany was baptized here at St. Michael's as an infant only 18 years ago. The same candle that burns brightly again for Brittany," Father John said. "And burns for her mother and father. So very, very sad."
Father John spoke about how Steven was a good son, husband and father and a good provider and friend. "He was a big guy and an athletic, popular guy," he said.
"You can tell by all the photos that Linda was a good mother and wife," he said. "Linda's whole life was for her children."
In the booklet Shannon Nutley spoke about her lifelong friendship with Brittany."She was someone who took pride in herself, especially her family who she always spoke so highly of…" said Shannon who was Brittany's friend since preschool.
"She lit up a room and she lit up my life like any friend I could ever ask for.
"I have known Brittany for 16 years now and although that may seem like a long time, it will never be long enough," Shannon said.