On January 10, the Spartans of Ocean Township hosted the Crimson Knights of Wall Township in a Shore Conference B North divisional wrestling match. It wasn't much of a contest as the Spartans beat Wall 57-14.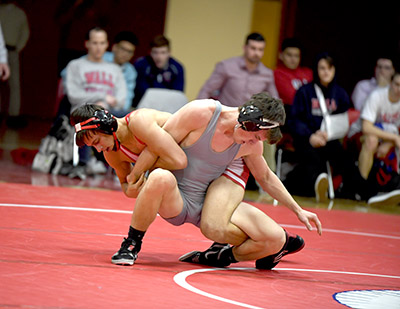 Wall, which once had a program that was highly competitive with tough wrestlers, started off the night forfeiting the 170, 182, 195, 220 and 285 pound bouts to the Spartans. Before the first wrestler broke a sweat Ocean was up 30-0.
The first contested weight was 106-pounds and Ocean increased their lead as Demetri Poniros beat his opponent 7-1.
Wall Township had only three wins all night and their first occurred at 113 with Blake Tarnowski of Ocean losing 6-2. T
he first pin of the night occurred at 120 pounds. Williams Tisony of Ocean put his Wall challenger on his back at 2:18 of their match. Wall then forfeited the 126- and 132-pound matches to the Spartans. With an impressive 51-3 lead, Ocean had only four more matches to wrestle.
At 138 pounds Saif Ali of Ocean was down 5-0 after the first period of his match. However, the second and third periods were all Ali as he won 10-5.
The best match of the evening occurred at 145 pounds. Wall had Jake Kelly, who entered at 17-0 and ranked number eight in the state at that weight. Ocean had defending 138-pound NJSIAA state champion Jake Benner taking the mat. This season Benner is 12-1, wrestling at 145 and 152 pounds.
It was an exciting match as both wrestlers knew each other's strengths and wrestled with caution. In the end, Benner handed Kelly his first loss of the season as the defending champion won 4-2.
If Benner stays at 138 pounds for the NJSIAA championships he could face the number one ranked wrestler in the country, Quinn Kinner of Kingsway. According to wrestling gurus, Kinner is considering dropping down to 132-pounds. The New Jersey Star Ledger has Benner ranked at number four in the state at 145 pounds. Wall Township scored the second pin of the night at 152 pounds.
Emerson Derose lost for Ocean at 5:55 of his match. The last bout was 160 pounds and Wall Township scored a 21-6 technical fall victory over Anthony Esposito.
In the B North division Ocean is 4-2 and sitting in third place. Long Branch is on top at 4-0 and in second is Middletown North at 3-1. Following the Spartans is Middletown South in fourth at 3-2, Manasquan in fifth at 0-2, Red Bank Catholic in sixth at 0-4 and in last place is Wall at 0-3.
Following that victory, the Spartans hosted the Blue Devils of Shore Regional on January 11, in a nondivisional match. The score was nearly identical as the Wall match, as the Spartans beat the Blue Devils 51-12. Following are the results of that match.
126 pounds, Jack Nies (OT) beat Al DeSantis (SR) 3-2
132,pounds, Alex Poniros (OT) won by forfeit
138,pounds, Michael McGhee (SR) beat Saif Ali (OT) 5-1 145,pounds, Jake Benner (OT) pinned Gabe Pesh at 1:01 152,pounds, Emerson Derose (OT) beat Jarret Weir (SR) 7-5
160,pounds, Anthony Esposito (OT) beat Ian Smith 6-0 170,pounds, Ryan Moran (OT) pinned Cade Torres (SR) 3:38
182 pounds, Brandon Tracey (OT) pinned Antonis Krousos (SR) 5:32
195 pounds, Tylor Sousa (SR) beat Dan Poniros (OT) 3-0
220 pounds, Mike Rosati (SR) beat Christian Wilson 11-6 285 pounds, Joseph Teresi (OT) pinned Balint Bogner (SR) 1:33
106 pounds, Jack Maida (SR) beat Demetri Poniros (OT) 8-4 113 pounds, William Tisony (OT) win by forfeit
120 pounds, Adam Manzo (OT) pinned Brad Smuro (SR) 0:59 Overall the Spartans are now 9-4, while Shore Regional is 2-0 in the Shore Conference B Central division and 9-3 overall.
captions
During his 138-pound match Saif Ali of Ocean was down 5-0 after the first period and ended up beating Shane Golomb of Wall 10-5.
Only two pins were scored in the 57-14 win for Ocean Township over Wall. The first occurred at 120-pounds with William Tisony putting Mike Bruno of Wall on his back at 2:18 of their match.
Two of the best 145-pound wrestlers went head to head with Jake Benner of Ocean Township getting the 4-2 win over Jake Kelly of Wall Township