SUN • JUNE 17 • 8PM
On Sale THURS • JUNE 7 • 12PM
Tickets: $250, $150, $99, $75 | Limit 4 tickets per billing address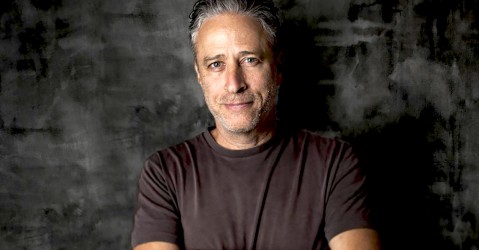 Comedian Jon Stewart will participate in an onstage interview and audience Q&A on Sunday, June 17th at 8pm at the Count Basie Center for the Arts. Tickets for the event will be a benefit for the Basie Center's capital campaign project.
"I'm happy to appear at the Basie for a great cause – the Count Basie," Stewart said. "The expansion going on at the center is going to keep Monmouth County the center of 'Jersey's premier arts communities."
Jon Stewart is one of America's top social and comedic figures.  As the longtime host and executive producer of Comedy Central's Emmy and Peabody award winning program, The Daily Show with Jon Stewart, he and the show won a collective 20 Primetime EMMY Awards and were nominated 56 times.  Stewart is also a New York Times best-selling author. In 2014 he wrote and directed his first feature film, Rosewater, which he also produced alongside Gigi Pritzker and Scott Rudin. Stewart currently has a first-look deal with HBO and serves as an executive producer on CBS' Late Show with Stephen Colbert.
Stewart will take questions from a moderator, with an audience-generated Q&A session closing the evening.
"We're honored that Jon is lending his support to the Count Basie Center," said Adam Philipson, President and CEO, Count Basie Center for the Arts. "Proceeds from this evening will go directly towards construction of our new center. It's impossible to express how much this means to us.  Jon's dedication to the region, the Basie and the arts in general is invaluable."
Announced in 2016, the Basie campaign is an ambitious, $26 million effort to expand the facility into a true, regional center for the arts. The project broke ground last fall on the west end of the Basie Center campus, which will create the Jay And Linda Grunin Arts And Education Building and house a second performance venue, space for the ever-growing Basie Performing Arts Academy, and provide upgrades to the backstage areas of the Basie's historic, 1926 theater.  A second phase, set to begin shortly, will expand the Basie theater's lobby, restrooms, and concessions areas, while creating a striking, glass-lined outer wall, flanked by the Stillwell-Larkin Pavilion and overlooking a new, outdoor public arts plaza.
Presented by Count Basie Center for the Arts
$500 VIP Meet & Greet Package
Limited availability
Photo with Jon Stewart
One (1) premium seat
All proceeds to benefit the Count Basie Center for the Arts