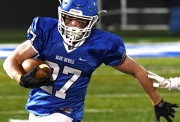 By Walter J. O'Neill, Jr
November 13, 2020
Friday the 13th was definitely unlucky for the Lions of Jackson Liberty, who traveled to West Long Branch and faced the Blue Devils of Shore Regional in a post season Pod football game. Shore dominated the game scoring on all but their last offensive possession winning 42-6.
The NJSIAA and Shore Conference had decided during the pandemic of 2020 that there would be no playoffs or championship football games. Instead, they decided to match teams in "Pods" based on their regular season results. However, Jackson Liberty entered the game on Friday night with a 1-2 record while the Blue Devils were 3-1.
"We had one loss this season, 20-13 to Barnegat, our second game of the season," said Head Choach Mark Costantino. He added that his team had made a few mistakes that night, but the officials didn't help. "They called seven penalties on one player, I have never seen that before."
Football pundits have consistently underestimated the Blue Devils over the years. In his 29 years as head coach, Costantino, has won 187 games, lost 104 and tied once. During his career at Shore his teams have won four of the schools seven state championships. They have also won their divisional title nine times.
It was obvious on Friday night that the Devils and Lions were not evenly matched. Shore seemed unstoppable. It was only on their last possession of the game that they didn't score a touchdown. If time didn't run out they most likely would have scored their seventh TD.
Costantino stated that he has had several teams over his career achieve this unbelievable accomplishment. "I'm very proud of this team. My coaches are doing a tremendous job, it is like having six other head coaches," said Costantino.
Nunzio's Pizzeria for the best thin crust pizza in town!
Shore senior quarterback Mike McGhee completed all six of his passes against Jackson Liberty for 95 yards. Senior running back Shane McLaughlin had 117 yards on nine touches scoring three touchdowns. Torin Harmon, sophomore, Jamie Mazzacco, junior, and Dylan Drahos, senior, all scored a touchdown in the victory.
Mazzacco also picked off a Lions pass for the lone Shore interception. Dylan Drahos and Liam Rosa recovered two Jackson Liberty fumbles. Leading the Blue Devils in tackles was sophomore Torin Harmon with six solos and assisted on two. Mazzacco and Cade Torres each had five solo tackles.
A few years ago the annual Thanksgiving Day, or night before game stopped for the Blue Devils. Over the decades  Shore has played Monmouth Regional, Point Beach and Rumson Fair-Haven. That annual Turkey Day tradition will return this year, as they host Matawan on November 25, Wednesday night at 7:00 p.m. It might only be a one-year return as a result of the pandemic.
Click the photos below to see the captions. Additional photos can be found at www.facebook.com/thelinksports