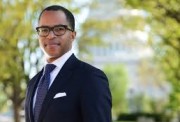 Our State of Mind by Robin Martin
So, now our Sunday morning AM Joy show is officially in the archives of MSNBC only to transition to 'The Sunday Show' anchored by Jonathon Capehart. Capehart frequently hosted the AM JOY show in Joy Reid's absence, now has his own news show.
He will be another first, after Joy Reid being the first African-American woman to host a prime-time cable news program.
Capehart was born in Newark, New Jersey, however, the family moved to Hazlet when he was a child, so he is a son of Monmouth County, who knew?
He became an intern at NBC News in New York City. after being invited to visit the news giant organization with an uncle who was employed as an engineer at NBC News. That uncle was taken by COVID-19 this year,
Capehart's MSNBC biography
Pulitzer Prize-winning journalist Jonathan Capehart is anchor of "The Sunday Show with Jonathan Capehart" on MSNBC.
He is also an opinion writer and member of the editorial board of The Washington Post, where he hosts the "Cape Up" podcast.
Capehart was deputy editorial page editor of the New York Daily News (2002 to 2004) and served on its editorial board from 1993 to 2000. In 1999, his editorial campaign to save the Apollo Theater earned him and the board the Pulitzer Prize for Editorial Writing.
African American History
1859 – Last slave ship the Clothide landed in Mobile Bay, Alabama
1870 – Colored Methodist Episcopal church organized in Jackson, Tennessee
1976 – Andrew Young appointed by President Jimmie Carter as Ambassador and Chief Delegate to United Nations
Ms. Martin is an educator, freelance writer and 2008 Monmouth University Dr. King Unsung Hero award.