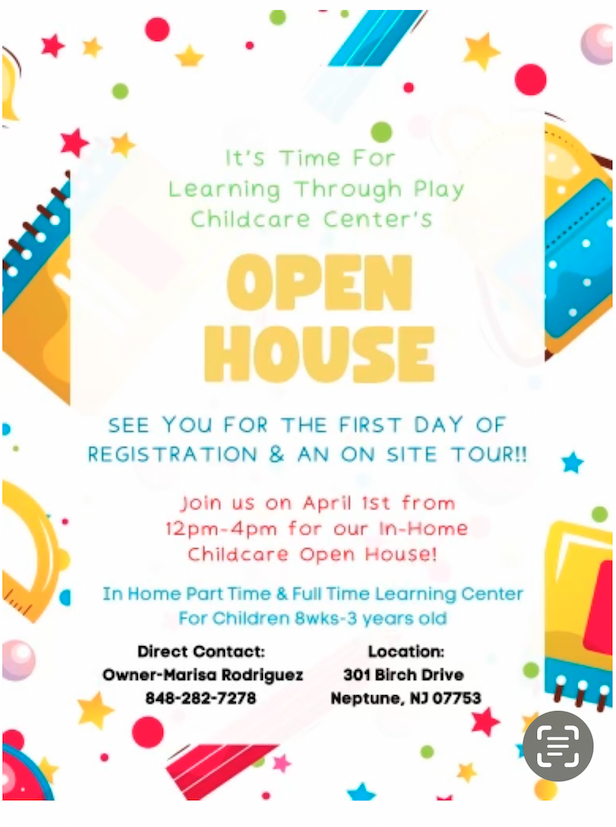 By Walter J. O'Neill, Jr.
Neptune – On April 1, Learning Through Play LLC, will hold an open house at 301 Birch Drive. It is an in-home childcare provider that will accept children from the ages of eight weeks to three-years old. New Jersey and Neptune have inspected and licensed the business.
Owner Marissa Rodriguez has over 25 years understanding early childhood theory and its application to childcare working for Long Branch Public Schools. She holds a CDA certificate and is certified in CPR. Rodriguez is a mother of four and grandmother of three, and will treat all of her children at the learning center as if they are here own.
"Nothing means more to me than the ability to change the lives of  particular children," said Rodriguez. She is bilingual, and encourages children to practice learning languages so they can express themselves in a variety of ways.
Learning Through Play, LLC. Will be open Monday-Friday from 2pm to 8pm during the school year, and 6am-to 8pm during the summer. They also offer a "Parents Time-Out" on Saturday for two hours only, giving parents a few hours to run errands.
Rodriguez stresses that her facility is more than a babysitting site. "Each day our children will learn how to play, explore, and grow into the bright star they are destined to be," she said. As an in-home childcare facility, space is limited, and those wishing to secure a spot need to contact Rodriguez at 848-282-7278.
"My goal is not only to change a child's life through learning but to focus on touching each domain of the development, social development, emotional development, and lastly linguistic development."