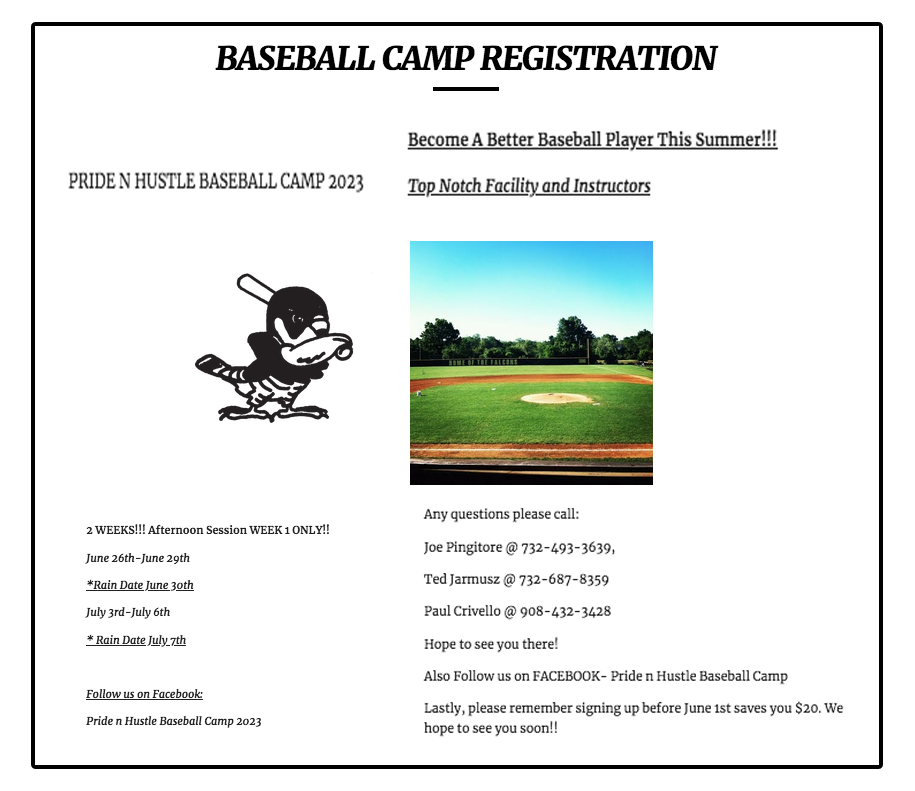 Hello from Pride N Hustle Baseball Camps, Baseball has been in the news recently as teams are signing top free agents to bolster their rosters. The Hall of Fame has inducted Phillies great Scott Rolen into the Hall of Fame. With so much to be excited about Coach J, Coach Ping and Coach Crivello are anxiously preparing for what will undoubtedly be our best Pride N Hustle Camp season ever.
With warmer spring temperatures arriving we know that it will soon be warming up again to stay, so it is time for us to utilize the fun drills that you learned at Pride N Hustle last year to give you that big edge when your season starts. Towards that end the coaching staff attended several virtual clinics to freshen up with some cutting edge drills. We can't wait to use the Outfield progression that we received directly from the Red Sox Outfield coach. That's right at Pride N Hustle you will be doing the same drills that the pros would be doing in spring training.
As always, to accommodate the potential of an extended school year at some schools we are holding camp Week 1 from June 26th to June 29th with Friday June 30th as the rain date. Week 2 will be July 3rd to July 6th with Friday July 7th as the rain date.
THERE WILL BE NO AFTERNOON SESSION WEEK 2. Also, please REMEMBER IF YOU HAVE A TOURNAMENT DURING CAMP, THE EMPHASIS WILL BE TO GET YOU THE EXTRA SWINGS, GROUND BALLS, AND FLY BALLS WITHOUT WEARING YOU OUT TO PREPARE YOU FOR THAT BIG GAME.
The freshman, JV and varsity teams are full of Pride N Hustle Baseball Camp alumni as well as many of the schools that they compete against. All the local teams will be starting spring training soon and they will be using many of the drills that we utilize at camp. The summer will be here before you know it! The function of our camp is to help you to revisit what made you play baseball in the first place, fun! The batting cages have been renovated and the pitching machines are waiting for you and we now have access to turf fields. The new drills that we are using with our High School programs have made a big difference in our player's performance and our staff cannot wait to pass them on to you.
We hope your fielding, hitting and throwing is continuing to improve and we have been preparing for what is undoubtedly going to be the best year ever. If your Mom, Dad or Coach have any baseball questions, we would be more than happy to entertain them. We just wanted to take this opportunity to wish you and your team the greatest of success in the 2023 campaign. Hopefully you are working on your schoolwork with the same enthusiasm as your baseball skills.
For your convenience a camp brochure is below and we will be accepting your payment for camp electronically. For a schedule and lots of other information including camp brochure, please visit us at
https://sites.google.com/a/monmouthregional.net/monmouth-regional-baseball/camp-1
and remember signing up before June 1st saves you $20. We hope to see you soon!! REGISTER NOW TO SECURE YOUR SPOT!!!
Registration: https://docs.google.com/forms/d/e/1FAIpQLSc2bZY22E0Lq9flQ8JI3g6hbf0w0vqESlIYCJKoyDnjY2ppZA/viewform