It's Back! The Tastiest Day of the Year! GOTCC's Wine, Chocolate & More Event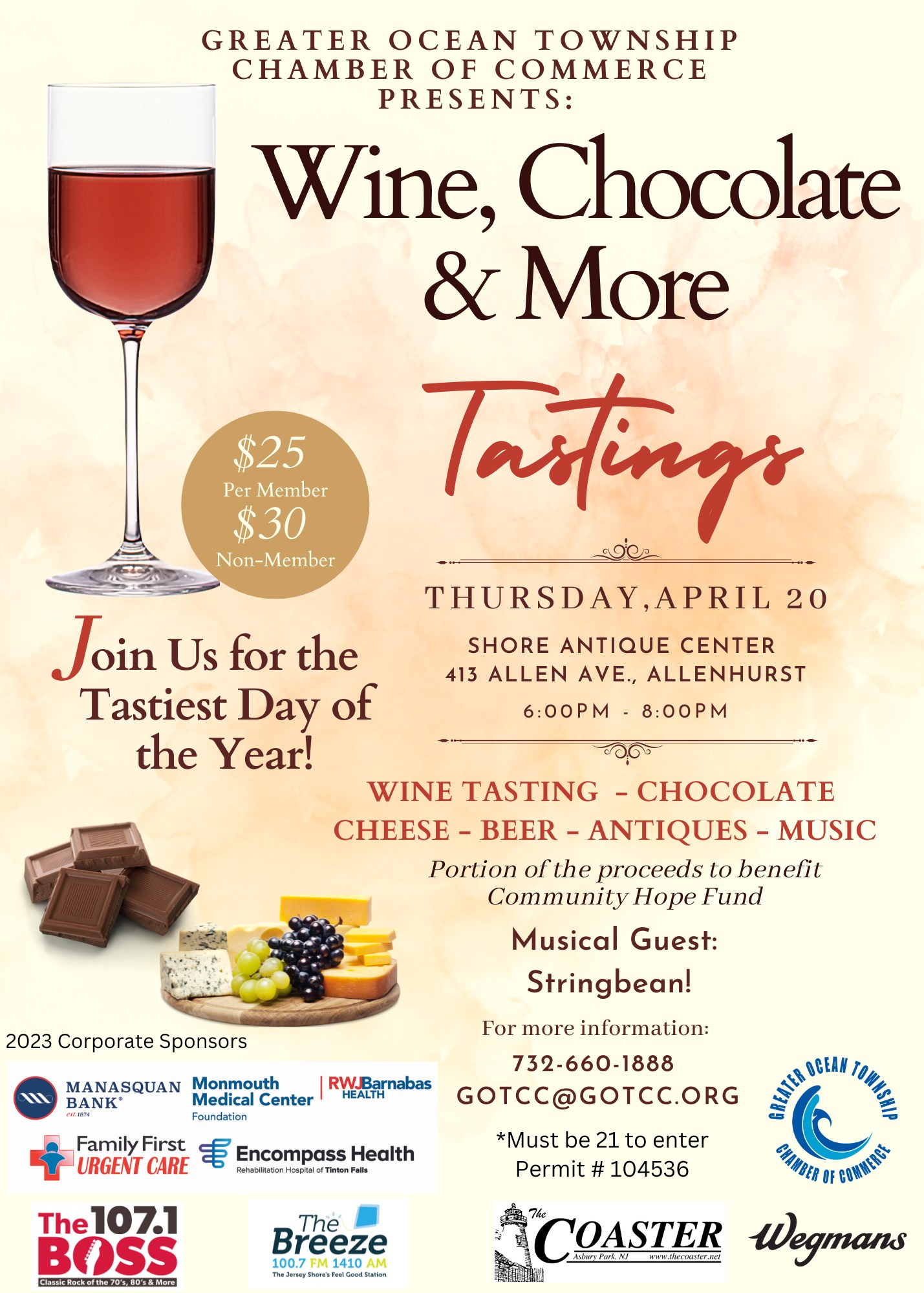 OAKHURST – The Greater Ocean Township Chamber of Commerce is excited to announce the popular Wine, Chocolate and More! Event is returning to the nostalgic Shore Antique Center Allenhurst, Thursday, April 20 from 6 pm – 8 pm.
Mingle, sip, sample and savor the flavor of delicious sweet treats, luxurious chocolate, full bodied wines and some special brews as you browse, explore and get a glimpse into the past.
"We are very excited to again be presenting the Wine, Chocolate and More! event", said David Kolakowski, GOTCC Board President. "It was always a favorite Chamber event and the Shore Antique Center is the perfect backdrop for meeting new connections while exploring and browsing vintage collectables and rare antiques."
This event serves as a membership drive for the Chamber and a benefit for the Community Hope Fund. New members who join the Chamber prior to the event receive free admission!
Gifted songwriter and local musician, Stringbean will be entertaining our guests.
Tickets are available at GOTCC.org. Just $25 for members and $30 for non-members.
GOTCC is grateful for our corporate sponsors Manasquan Bank, Monmouth Medical Center, Family First Urgent Care and Encompass Health for their annual support. Also sponsoring this event is The Coaster, Press Communications and Wegmans.
For almost four decades, the Greater Ocean Township Chamber of Commerce (GOTCC), a member-based non-profit organization has promoted the business community in the Township of Ocean and surrounding counties in NJ; and given back to the community through a variety of outreach programs.
For additional information or to join the Chamber of Commerce, contact Regina Longo at gotcc@gotcc.org or call 732-660-1888.