By Dennis Sherman
Hello, everyone, hope you are all enjoying the boardwalk and ocean during this warmer weather.
Work is continuing to make Ocean Boulevard safer for crossing and driving. This has been one of our main S.O.A committee goals for a long time. New repairs and construction have started on Ocean Boulevard at the corner of Brighton Avenue next to the Dunkin Donut and north. The intersection will be reconfigured and made safer. Also, two new cross walks are going to be added on Ocean Boulevard south of South Bath Avenue with appropriate signage, flashers, and safety additions to make it safer to cross Ocean Boulevard.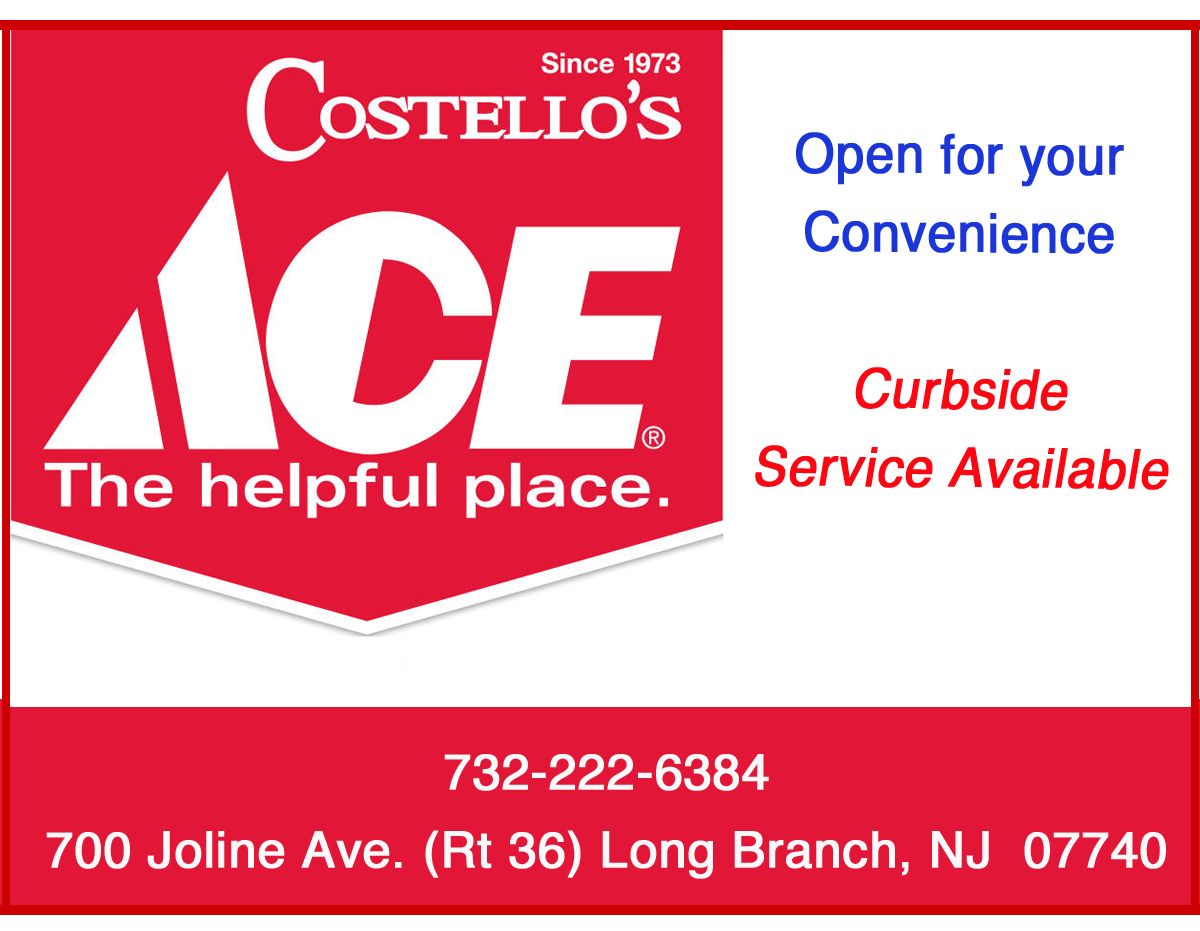 Another goal of the SOA committee has been to improve the safety for people riding bikes on Ocean Boulevard and Ocean Avenue by the boardwalk. It would be wonderful if we all could walk or ride a bike from Brighton Avenue where the south boardwalk starts to the promenade (north green acre traffic-free park) at Seven Presidents Park with no or limited vehicular traffic, especially during high volume traffic during summer months. The two green acre boardwalk parks should be connected and traffic eliminated or reduced.
The city's bike committee and state DOT are also very close to making the final bikeway path recommendations along Ocean Avenue/Ocean Boulevard by the south and north traffic free linear green acre parks along the boardwalk. Hopefully safer biking and walking in Long Branch will happen. As part of our agenda, the city has also put up yellow pedestrian crossing solid standing signs at each crosswalk from Howland Avenue to South Bath Avenue in the south linear green acre park next to the boardwalk. We have been meeting regularly with the city about these issues and the Vine Court Petition after last years "pop up" in Long Branch. The issues include; improving public and oceanfront safety and police presence.
I encourage you all to see and use the shade park benches and flower boxes at the south end boardwalk bathroom at West End Avenue. This intended shade area with shade umbrellas is one of the few places on the boardwalk, for sun relief and shade in the hot summer months. This is especially important to have if you can't get down to the beach. We need more shade areas, especially for our senior citizen population and board walkers.
Soon, with our SOA committees' urging, the city will put back up the 4 by 8-foot art boards at the beach access points for all to enjoy. These art boards are one-of-a-kind artful historic scenes of old Long Branch and are beautiful to look at while at the ocean front and beaches. These original art works picture the Seven Presidents who came to Long Branch regularly. They will be put up soon next to the Ocean Avenue roadway in the south green acre traffic free park next to Brighton Avenue and the south shade park. They will also be put up at beach access points along the boardwalk. The SOA committee got these boards painted and made over fifteen years ago and put them up on all the boardwalk bathrooms at each access point. The scenes showed the old fishing pier, the bluffs painted by the famous artist Winslow Homer and beach life and bathing suits worn in Long Branch during the 18 th and 19th centuries. The 4by8 art boards are beautiful for all to enjoy at the ocean front and are a main feature of the boardwalk which we had the city name, "The Ocean Walk" by ordinance many years ago.
Also, if you look closely on the east side of the boardwalk under the railings you can see where the SOA committee had the city put in little plagues marking every quarter of a mile up to the little flower garden memorial at Pier Village noting a plaque in memory of the Moss Mile. The quarter mile markers stretch from the beginning of the boardwalk at Brighton Avenue to Pier Village and can give you an idea of how far you walk or run in either direction.
More beautification, art works and sculptures, plaques on rocks along the boardwalk and oceanfront are needed. The boardwalk "Ocean Walk" is unique to Long Branch and the ocean front and should be further developed. This is only possible if supporters like you and the SOA/LBCC committees ask the city and public officials for their support. The Long Branch oceanfront is unique and has the only two green acre traffic free linear parks along the boardwalk in the state of New Jersey. The parks are for all to use and enjoy and for children to play in safely.
It is wonderful to look out to the ocean and see dolphins, whales, osyter catchers and ospreys in the sky and water. Our SOA logo pin on top left of this news burst has sky, sun, ocean, beach, boardwalk and a safe roadway to walk upon. If you look closely at the SOA logo pin it has seven waves ready to break on the beach. Each wave is for one of the Seven Presidents who came and stayed in Long Branch for Summer vacations and is part of the city's rich history.
Visit our website for a full picture of our group's goals, history, and activities www.saveoceanave.com and if you want to receive these SOA news bursts send me your e mail. shermnp@aol.com Encourage others to be supporters of the SOA and LBCC committees and natural beach environment. The SOA news burst is free and your name easily removed if you request it.
Remember your voice counts only if you use it
Take care for now Dennis
Dennis Sherman
Chairman Save Ocean Avenue Committee (SOA) and
Vice President Long Branch Coalition of Condominium Associations (LBCC)
Also, please see below an article that further explains how new bike ways and traffic safety devices will be added to Cedar Avenue which intersects with Ocean Boulevard at the south end of the boardwalk, and Green Acre Park.
Bike Lanes Coming To Cedar Avenue In Long Branch
(Shutterstock)
LONG BRANCH, NJ — Bike lanes will be coming to a big stretch of Cedar Avenue in Long Branch, Patch has learned.
While it's still unknown when the lanes will be installed, the city of Long Branch received $4.7 million from the county to put them in. The bike lanes will be installed along Cedar Avenue between Norwood and Ocean avenues. Other improvements funded by that $4.7 million include pedestrian and traffic signal upgrades at 15 intersections along Cedar Avenue, dedicated left-turn lanes and high-visibility crosswalks.