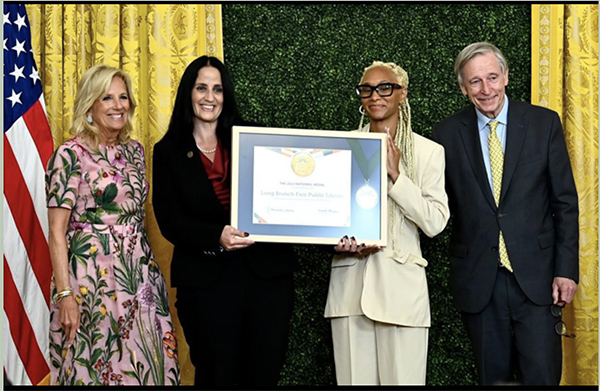 On July 17th, our library received the IMLS National Medal at the White House from First Lady Dr. Jill Biden and IMLS Director Crosby Kemper. This is the nation's highest federal honor for libraries and museums.
We are incredibly proud and thankful to all of our hardworking staff, our Board of Trustees, our Mayor, Congressman Pallone, Senator Booker, our Friends of the Library, and of course, our Director Tonya Garcia. Most importantly, we want to thank our beloved library users who make this now nationally-recognized library the center of their community. Thank YOU for believing in us throughout the years, for coming to our story times, checking out our books, using our contact free services during the pandemic, attending our programs and growing with us.
Receiving this honor has been a thrilling experience. You can depend on our library to continue to provide you with outstanding service for the years to come!