By Walter J. O'Neill, Jr.
Gymnastics is beautiful sport that captures grace, strength and tremendous skills. For one Ocean Township High School senior, it is also a passion that will have her competing next year as a Golden Bear at Kutztown University.
Hannah Molyneux, Class of 2024 at Ocean Township High School is the gymnast that signed her National Letter of Intent on November 8, to join the Kutztown University flipping and tumbling team. Like all elite athletes, the amount of time, training involved is what sets them apart from others. Gymnastics is a sport that requires athletes to hone their flexibility, agility, balance as well as tremendous core muscles. They also have to learn new routines that require harder and harder techniques.
Over her time as a Spartan, Molyneux stated that her best memory was meeting her best friend as a result of gymnastics. On the other hand, her least favorite memory is getting injured. "My greatest skill as an athlete is being able to exceed limits placed on me through injuries with my mindset," said Molyneux.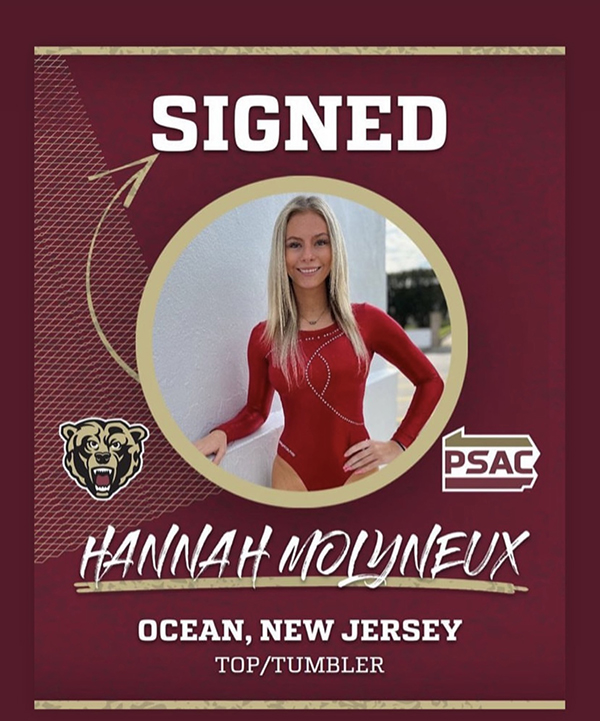 From freshman year to senior year, she has developed into a much stronger and confident competitor. She spends countless hours training and preparing for the extremely rigorous sport. This past season she competed on the bars and has two first place finishes, second twice and ended in third one time. She also took third on the vault in a match against St. John Vianney.
Five years from now she sees herself studying for her MBA as well as working as a graduate assistant coach.
"I have known Hannah for four years as her high school gymnastics coach. She has competed at the varsity level all four years as an all-around athlete," said Nicole Farina. Coach added that Molyneux is very skilled. "She has qualified at the Shore Conference Tournament and the NJSIAA Sectional Meet every season, which is a huge accomplishment. Hannah brings a positive energy to the gym and demonstrates a strong work ethic."
Ocean Township finished the 2023 season with an 8-7 overall record. "She has a great ability to lead by example. Her graceful movements and daring moves mesmerize the judges and audience. Hannah is a high level gymnast who greatly contributed to our team's success," added Farina.