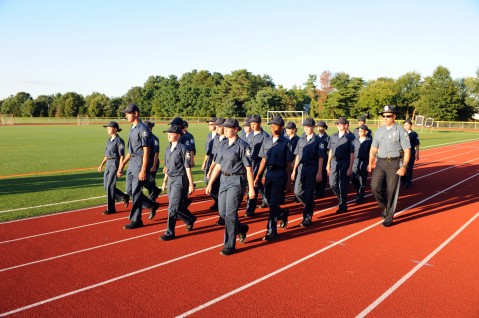 By Walter J. O'Neill, Jr.
Tinton Falls – Backs straight, uniforms perfectly pressed, the 26 middle school students who participated in the 2011 Tinton Falls Junior Police Academy marched into the history books.
John Scrivanic, who is in his first year as Chief of Police, told the youngsters they will hold a special place in his heart as they were his first graduating group of students as chief. "Many of you I know, but those of you who I don't, this is where our relationship starts," said Scrivanic.

Ranney School opened its campus to the Tinton Falls Police Department allowing the instructors to put the junior cadets through military-type training. "I purposely removed myself from the start of the program. You and your children know me as Coach John, and I needed them to get out of their comfort level," said Scrivanic. "I watched from the sidelines and I was very impressed with each of these students and my instructors."
The program is open to middle school students who are at least 13-years of age. The three-week course is intense and is free. All the students are required to have are black socks and shoes. This is the ninth year Tinton Falls Police Department has offered the summer program. "I'm sorry about the sunburn, yes I heard about it," said a smiling Scrivanic.
Monday thru Friday from 8:30 a.m. to 5:30 p.m. was the hours of operation and every student who entered the program received a graduation certificate on August 12. "As I was driving my son to the ceremony he told me he wished it was not over," said Barbara Felder-DeOrio. "For the last few years he could not wait until he was old enough to join the program."
The students were exposed to many different aspects of law enforcement. From K-9, traffic, narcotics, forensics, first aid, weapons training, self-defense, and legal proceedings all thoroughly taught during the summer session. Students were also taken on field trips to the NJ State Police Museum, Ellis and Liberty Island, the Monmouth County Courthouse, County 9-11 Communications Center, Monmouth County Fire Academy and a few afternoons at the beach and a Blue Claws baseball game.
"Everything was donated from the uniforms to the instructors," said Felder-DeOrio. "The kids learned karate, worked the high rope course, and how to kayak. I was very proud of my son and extremely appreciative of the hard work and dedication shown by the Tinton Falls Police Department."
Before the students were handed their certificates, John Scrivanic presented Corporal Daniel Marks with a special award. "He has been our School Recourse Officer and part of this program from the start," said Scrivanic. "He has also announced that he will be retiring, and you were his last group of students."
The instructors who put the students through their paces were Lieutenant Robert Delaune, Corporal Marks, Corporal Anthony Turso, Detective Mike Delucia and Officer Elena Mazzeo. Before the award ceremony on Friday night, the students demonstrated marching and drilling abilities.
Inside the auditorium several awards were handed out. The firearms award was presented to Melissa Martin and Bryan Walker. The physical fitness award went to Juliana Garruto and Chris Falk. Getting the grit and tenacity award went to a young girl that had to leave early the first two days of camp. She felt sick both days and the instructors didn't think she would pass. However, after the third day Erica Schertz didn't miss a beat.
Austin DeOrio won the drill and ceremony award, best in uniform went to Bryan Walker, most determined was presented to Melissa Martin and Zachary Major. The biggest honor, the leadership award, was presented to Genna Fosman.
The Tinton Falls Police Department Jr Academy Class of 2011
Lexie Brito, Marisa Schechter, Bryan Walker, Bobby Riordan, Zack Casler, Austin DeOrio, Alex Mayer, Gabrielle Rife, Rebecca Corson, Genna Forsman, Matt Migliazza, Dylan Farber, Samantha Smith, Andrea Benadum, Amanda Barrett, Christian Preziose, Daniel Armenti, Chris Falk, Alexis Benadum, Kevin Musselman, Dylan Bevacqui, Corey Shevlin, Dillon Morrill, Alyssa Amato, Juliana Garruto, Kelly Soder, Zachary Major, Erica Schertz, Melissa Martin, Alex Britton and Jodi Taylor.
To view all the photos please LIKE us on Facebook