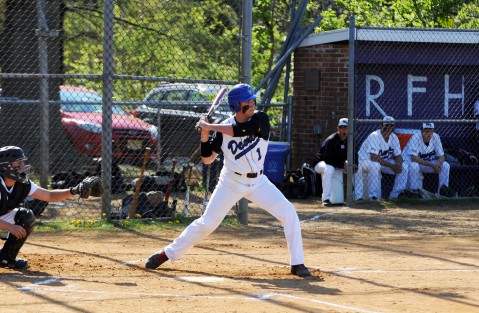 Following story appeared in Volume 11 Issue 33
On a beautiful Thursday afternoon the Bulldogs of Rumson-Fair Haven hosted the Blue Devils of Shore Regional in a Shore Conference Class A Central baseball game.
"This is a very competitive division," said Pat O'Neill, who is in his first season as the Blue Devils head coach. "Every divisional game we have played has been close and Rumson was a perfect example."
Starting pitcher for Shore was senior two year captain RJ Bohnert, who pitched four of the seven innings. Shore started the game with a bang, as they scored three first inning runs. Matt Cosentino hit a two run homer in the first.
Rumson-Fair Haven went down 1-2-3 in the first, but had a better second inning as they scored two runs. The third inning was scoreless, then both teams added two runs in the fourth. Nick Blaney had a double for Shore and T.J. Sempkowki had an RBI double.
Going into the bottom of the top fifth and sixth innings the Blue Devils were leading 5-4, however, Rumson-Fair haven added four runs in the bottom of the sixth inning taking the 8-5 lead and eventually winning the game.
Coming in for relief for the Blue Devils was Matt Cosentino, who unfortunately, picked up the loss after his two innings of work. However, the sophomore Cosentino had a good day with his bat as he smacked two homeruns in the game. Bohnert went 3 for 4 with a run scored and an RBI.
"With the loss we are now 2-5, but our record doesn't show what kind of team we are," said O'Neill. "We are a much better team than our record indicates. As our younger players continue to play and get more experience on the varsity level I feel that we will continue to improve as the season progresses."
Seven of the nine starting players on the Blue Devils roster are underclassmen, including three sophomores. With the win the Bulldogs of Rumson-Fair Haven improved to 4-4 overall and 4-2 in divisional action.
Additional photos of this game can be viewed at: www.oneillphotography.printroom.com