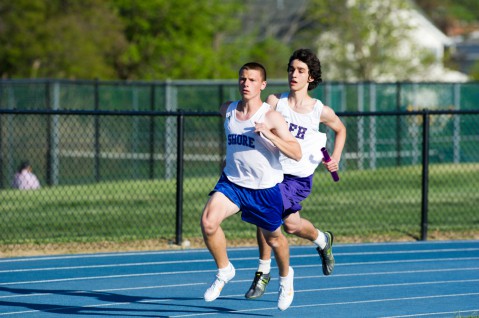 Following story appeared in Volume 11 Issue 33
The Shore Regional High School boys track team is having a rocky road this season. They were hoping to improve upon the 2-4 record of 2011, but it doesn't seem as if it will happen this season.
Last week the Blue Devils faced the Rumson-Fair Haven Bulldogs in a Shore Conference Class A divisional contest. It was a runaway win for the Bulldogs, who crushed the Blue Devils 117-33. Of all the contested events, Shore Regional won only two.
Mike Hurley won the 400 hurdles in 51.44 seconds while his teammate Andrew Mahon won the triple jump with a leap of 39'1.5", just a half inch away from the school record set in 2004 by Nick Murray.
With the loss to Rumson-Fair Haven, the Blue Devils are now winless in four matches. The Bulldogs are now undefeated at 3-0 with the victory over Shore.
Mel Ullmeyer is in his twelfth season as the Blue Devils' head coach. The 2012 varsity roster includes Hurley and Mahon, Clark Halpern, Mike McArdle, Rocco Nannierello, Chandler Paxton, and Dave Musselman. New key players this season are Jeff Morse, Chris Okopski, Pat Thorman, Mike Moore and Jordan Sperling.
The oldest track and field records for the Blue Devils boys squad were set back in 2002. Marck Altenau ran the 3200 in 9:48.08 at the Monmouth County Championships. Kimble Haberman jumped 21'6" in the pole vault at the 2002 Long Branch Relays.
Photo: Sportshotswlb.com