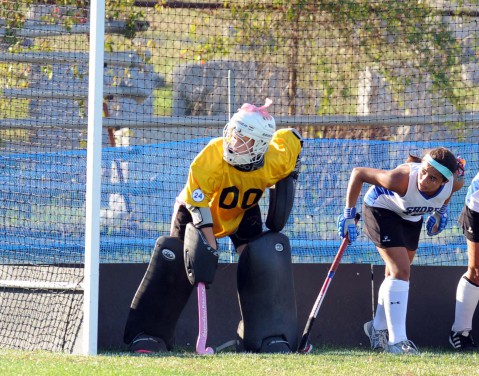 Update: The following story appeared in Volume 11 Issue33 of The Link News. On Saturday, April 28, 2012, Shore Regional High School field hockey head coach, Nancy Williams, informed us that Shannon Johnson has changed her mind and will no longer attend Northeastern University. According to Williams, Johnson has now verbally committed to UNC.
With one year of high school field hockey left to play, Shannon Johnson has taken one big decision off her plate.
Most seniors enter their final year of high school worrying about what college or university they will attend or if they want to enter the military or job force. Johnson, who has been the starting goalkeeper on the Blue Devils field
hockey team, has announced she will attend Northeastern University following her senior year at Shore.
"It was an easy decision for me," said Johnson. "It was a perfect fit. I love the school, which is located in Boston, and really liked the coaches and the program." Johnson made two visits to the school before she decided she wanted to be a member of the Huskies field hockey program.
"The coaches told me that I had an opportunity to start, but I would really have to work hard," said Johnson. But before she puts on the red and black of Northeastern, she has one more year in the goal for Nancy Williams, the legendary head coach at Shore Regional.
"She is the most talented goalie I have ever had, and I've had some excellent ones," said Williams. "She is multi-dimensional where she uses her small frame as an advantage, quick to cover every angle. Her technique is perfect and has the qualities of both an upright and a low playing goalie."
Johnson said that she was not always a goalie. "When I was in fourth grade I changed from a field position to goalkeeper," said Johnson. Yes, you heard that correctly. In fourth grade she already knew she wanted to be a goalkeeper. "I have been playing field hockey since I could walk. My aunts, Catherine Stefanelli and Megan Harman, both played for Coach Williams and now own and
operate Jersey Intensity, where I play club hockey."
According to Williams, Johnson has been an impact player since she joined the Blue Devils as a freshman. Over her three years of varsity action 225 shots have been fired at her and only 39 have made it past her. "She has an 86 percent average on saves," said Williams. "She has played on two state championship teams where her play in the sectional finals both years was the difference in the outcome."
The passion for the sport must run wild in the veins of the Johnson family. Aileen Johnson, who will graduate this year from Shore Regional, has already committed to playing at Duke University. Aileen was one of the most dangerous scorers in the state even while her entire junior year with a knee injury.
Shannon is making her own mark in the sport, and carving out her own legacy. The past two years Shannon has played on the U-17 national team and traveled to Holland and Canada. "Playing on the national and international level as well as in college the action is much faster as they play on artificial turf," said Johnson. "The shots come much faster and harder at me when on turf, my reaction time has to be quicker."
The Huskies of Northeastern University are coming off their first trip to the NCAA Tournament since 2004, and with a big recruiting class this year and great prospects like Shannon Johnson in 2013, Northeastern might face Duke in the tournament, where the sisters might meet for the first time on opposing teams.