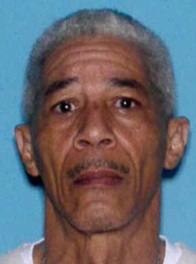 Howard Charles Long, 57, of Neptune Township, NJ, was charged last night with the attempted murder of a 17 year-old Neptune Township boy. Long remains at large and is being sought by police for arrest.
During the early evening hours of May 31, 2012, the 17 year-old victim returned to his home on Fordham Avenue where he lives with his mother and two sisters. Long, who dates the victim's mother, was at the residence when the victim arrived. The victim and Long got into a verbal argument that eventually became physical outside of the victim's home. At one point, Long went inside the residence. He returned with a handgun and fired it at the victim. The victim began running away from Long. Long exited the house pursuing the victim and is believed to have fired another shot at him. The victim was not injured. The victim's father arrived at the residence at this time. He observed what was occurring and called 911. Long fled the area in a motor vehicle, which has since been found. Long was not located, however.
Officers and Detectives from the Neptune Township Police Department and the Monmouth County Prosecutor's Office responded to the victim's home. Complaints were signed against Long for Attempted Murder, Unlawful Possession of a Firearm, and Possession of a Firearm for an Unlawful Purpose. An arrest warrant was issued for Long today.
Efforts to locate Long are active and ongoing. Law enforcement authorities from the Monmouth County Prosecutor's Office, the Neptune Township Police Department, U.S. Marshals Service, and the Monmouth County Sheriff's Office are working together in an effort to locate and apprehend him. Law enforcement authorities are also asking for the public's assistance in locating Long. Anyone with information should contact Detective
Pamela Ricciardi of the Monmouth County Prosecutor's Office at (800) 533-7443 or Detective Jason Petillo of the Neptune Township Police Department at (732) 988-8000.
Despite these charges, every defendant is presumed innocent, unless and until found guilty beyond a reasonable doubt, following a trial at which the defendant has all of the trial rights guaranteed by the U.S. Constitution and State law.
Photo: Howard Charles Long supplied by the Monmouth County Prosecutor's Office