The FBI is asking for the public's help to identify victims of suspected serial child predator Matthew John Coniglio. His female victims—some as young as 8 years old—may be unaware of what happened to them.
Coniglio, who committed suicide on April 20, 2014 following his arrest on child pornography charges, is known to have resided in Georgia, South Carolina, and North Carolina over the past 15 years.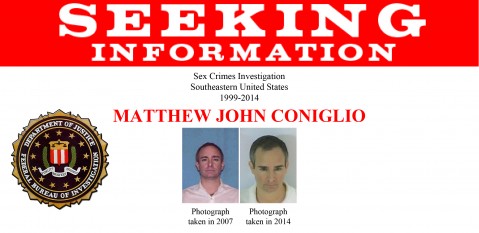 Videotaped evidence seized at the time of his arrest suggests that Coniglio drugged multiple young females who he subsequently molested and raped. At this point in the investigation, photographed victims are being identified and notified. Those who believe they may have been victims are encouraged to come forward—not only to aid investigators but potentially to seek services through our Victim Assistance Program.
A confidential questionnaire is available for anyone who thinks they may have been victimized by Coniglio or who may have information about his predatory behavior.