Here we go Long Branch, here we go!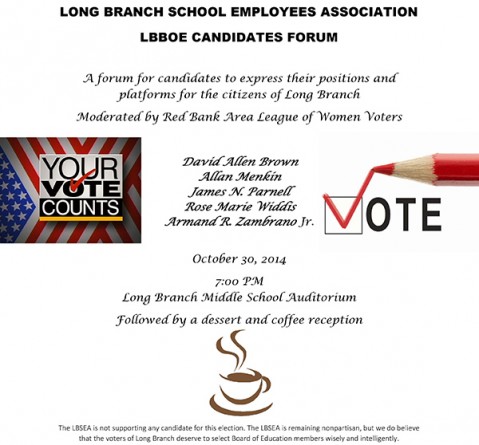 Its election time for the Long Branch Board of Education. The three (3) incumbents are seeking reelection; James Parnell, Allan Menkin and Armand R. Zambrano Jr.
They are being challenged this year by two people, Rose Marie Widdis, who was a board member for many years under the previous administration, and David Allan Brown.
A forum for candidates to express their positions and platforms for the citizens of Long Branch moderated by the Red Bank Area League of Women Voters will be held on October 30, 2014 (Thursday) at 7:00 p.m. in the Long Branch Middle School, 350 Indiana Avenue, Long Branch, NJ 07740.
The forum is being held in the George Beaver Auditorium and is hosted by the Long Branch School Employees Association. Following the event a coffee and dessert reception will be held.