By Patty Booth O'Neill
A second male jumped to his death around 3:00 on Monday afternoon off of the Y107 Radio tower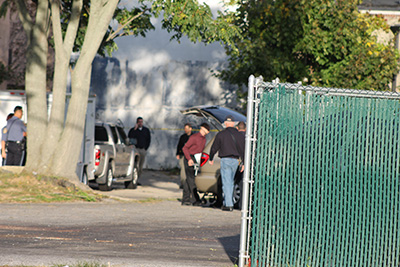 located off Memorial Parkway on Belmont Avenue.
Police had received a call that someone was climbing the tower. Christopher Zweidinger, an unemployed 38-year-old man from Whiting, NJ sat on the east side of the tower about half way up. Fire and police responded and tried to make contact with Zweidinger, who took off his coat, threw it to the ground and jumped onto the roof of an abandoned building below the tower. He went through the roof onto the second floor.
Witnesses say Zweidinger wasn't there very long. "I came out here and there were a lot of police cars and everyone was looking up," said one bystander. "Then I saw him jump. It was awful, I couldn't believe my eyes. The sound of him hitting was worse."
Zweidinger's body was eventually located and removed from the building, he appeared to have died on impact. The building is in a state of disrepair and was deemed unsafe for entry, hampering the efforts of the fire fighters. Search and rescue operations were implemented by the Long Branch Fire Department, who were assisted by the Asbury Park Fire Department.
Blocks surrounding the tower were taped off by Long Branch Police, allowing no one to leave or enter the corded off area.
In April a man from Elizabeth, who had worked on the tower jumped to his death from the top at 400 feet.
Those observing the incident felt there should be something done to keep people from having access to the tower. Some said it needed barbed wire, a second fence or electric fence.
Zweidinger's car, which contained a suicide note, was towed from Belmont Ave at around 5:30pm.