By Jim Hintelmann
Photos by Jack Flaherty
Red Bank – Barring some shocking upset, there will be no controversy about who the No. 1 football team in the Shore will be this season. Unbeaten Red Bank Catholic saw to that with an awesome performance in a 35-7 rout of previously unbeaten Manalapan Friday night before a standing room only crowd at Count Basie field.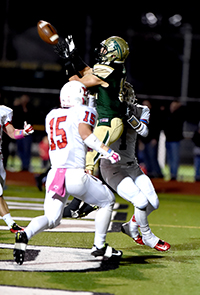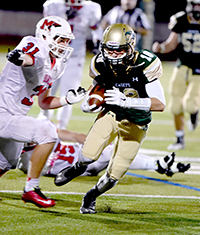 The two teams had been ranked one-two in various local polls this season and had long win streaks against area teams. RBC's win extended their streak to 39 while Manalapan had a 30-game streak stopped.
"We played very well," said RBC coach Jim Portella. "They beat us with a couple of passes in the first half but we played old-fashioned football in the second half.
"We ran the ball well and played great defense in stopping their great running back (Imamu Mayfield). We also did well against their play action passing. It was a fun game,"
Junior quarterback Eddie Hahn, whose  running and passing ability has given RBC a new dimension, led the way for them by completing 7 of14 passes for two touchdowns, both to Nick Lubischer, and 191 yards.
The RBC defense, with Doug Zockoll setting the pace with four quarterback sacks, held a high scoring Manalapan offense (45 ppg) to just 200 yards of total offense. Zockoll has a Shore-leading 11 sacks this season.
RBC took control from the start, needing only three plays to go 85 yards for their first touchdown,  a 78-yard scoring pass from Hahn to Lubischer, who caught the ball at the RBC 35 and raced the remaining distance. Vince Gallo kicked the first of five extra points.
"We played our regular offense," said Hahn. "There was nothing special, I have great receivers."
Michael Cordova made it 14-0 with a 6-yard touchdown run early in the second quarter to cap an 11-play 49-yard drive.
Hahn and Lubischer then hooked up for their second touchdown, a 25-yard pass in which Lubischer made a leaping catch between two defenders for a 21-0 lead.
Manalapan finally got on the scoreboard later in the half when quarterback Dan Anerella threw a 48-yard touchdown pass to Gerard Hodge-Rocourt to cut the lead to 21-7.
RBC made it 28-7 in the third quarter on a 37-yard touchdown run by Nick Cella and closed out the scoring in the final period on Tommy Spernal's 18-yard touchdown run.
RBC can clinch the B Division North title this Friday if it beats Ocean Township.
For more on the story, check out The LINK News on news stands now.