Patricia Booth-O'Neill and Walter J. O'Neill, Jr, were informed by Pat Hickey, President of the USA Karate Federation that they will be inducted into the National Hall of Fame.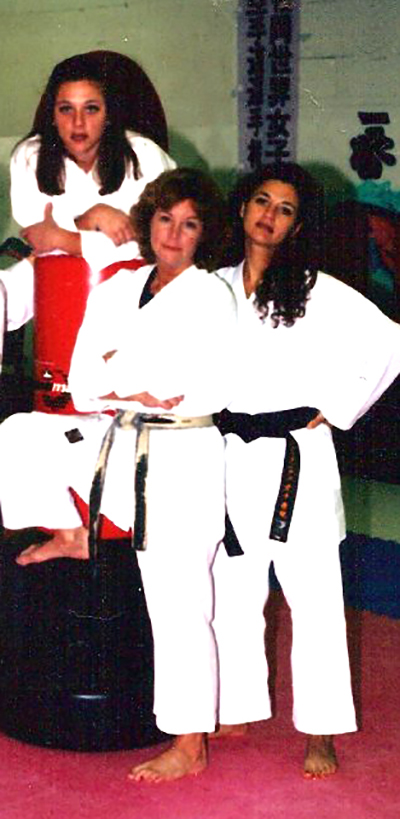 On top of that honor, they were also told former students; Elodie Montivero-Santucci, Chimene Montivero-Cole, Suellen Breon, Danny Rubin, Lauren Rubin, Vinny Napoletano and Dr. Matthew Geltzeiler are also being inducted.
The USA Karate Federation served as the National Governing Body for Karate from 1981 to 1995 both under the Amateur Athletic Union (AAU) and then after the US Sports Act of 1978 with the United States Olympic Committee. During that period the USA
Karate Federation was organized and became a strong national and international organization. "Walter and Patty O'Neill both served the USAKF in many capacities. Patty was a long-time member of the National Karate Team and one of our first female fighters to medal internationally," Hickey said. "Her record is remarkable."
Patty, 7th degree black belt, was a pioneer back in the early days of karate competition. When she first started fighting females had only one weight division. As a light weight fighter she was going up against women that were much bigger. She won the coveted All-American Award 7 times and was a 7-time National Champion. Just a few of her milestones were finishing third at the World Championship in Budapest and first at the World Games in California.
"You would think my favorite memories would be about taking first place," O'Neill said, "but that's not so. My favorite competition was at the World Games in Budapest." Patty remembered that's the year the women's division got serious. The women's devisions became a lot tougher. "For first place I lost to an incredible fighter from Venezuela," O'Neill said. "Then I fought a girl from Japan. She kept overreacting about me making contact to her  face, trying to win by disqualification. It was international competition. You were allowed some contact to the face. She kept grabbing her face and dropping to the mat and the judges were getting fed up. At one point she hit me in the face and when the judges were about to restart the match they saw I had a bloody nose. The head judge, who was from France, ran over to see if I was okay and I waved my hand at him like it was nothing," O'Neill recalled. "I gained so much respect from just that one fight, but it was a calculated move on my part. Like playing chess. It psyched my opponent out.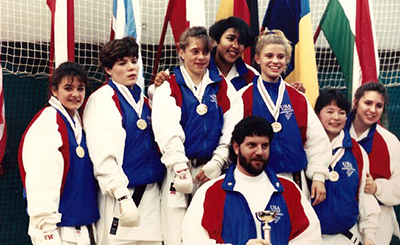 "Although when I won first place at the World Games in California I stood on the podium, they placed a gold medal around my neck and played the National Anthem. Nothing beats that," O'Neill admitted. "That's a teary-eyed moment I'll never forget."
"Walter was also a member of the USA National Karate Team and had several key international wins. Unfortunately he suffered an injury that resulted in his leaving Team USA," said Hickey.  However, he was asked to rejoin Team USA as a coach. "We were lucky to get Walter as a coach. His experience and ability to connect with the athletes was a tremendous advantage when he took a team out of country. We also took him as a chief administrator, where he served as president in New Jersey and was one of our national vice-presidents. We are thrilled to have Patty and Walter join us in Ohio when we honor them for their many years of service and accomplishments in karate."
Walter is a 6th degree black belt and was a member of the USA National Team for several years. He competed in the heavyweight division and took third at the European Champions and won the National Championships and All-American award five times.
Karate has been attempting to get into the Olympic Games, but first the sport must be contested on a regional level. For the United States that meant the Pan American Games. The USOC was not looking kindly at the sport. A few of the national leaders under the late George Anderson undertook a monumental task of getting Pan American recognition. Walter was one of those men who lobbied politicians and worked behind the scenes. Their effort paid off as karate was part of the 1995 Pan American Games in Argentina. As a result of his dedication to the federation, Anderson named him the 1995 Man of the Year.
At the request of Anderson Walter went into the coaching division of the USAKF and traveled around the world with Team USA, mounting impressive wins.
Patty was named the "Best Female American Fighter" by Karate Profiles Magazine in the 1980's. She started the Atlantic Karate Academy back in the early 1980's and retired the school 14 years ago when she started The Link News. Her husband, Walter, retired from his karate positions 20 years ago. Both Patty and Walter are honored and overwhelmed that the USAKF is going to recognize them after all these years.
"One of the greatest honors any athlete can have is to stand on a podium hearing the National Anthem played as you represent your country," said Walter. "But now, the greatest honor for me is being inducted with my wife, who was a pioneer in a sport dominated by men."
When Patty retired from the USA team she trained many students to compete. "I retired because I became pregnant with my first child Shay. After that I had Rachel." She said she felt it was a graceful way to go out. "It was a better way to retire than having the young fighters coming up behind you. And they were coming," O'Neill laughed.
"I had a great career and great memories. But I'm most proud of the students I taught whether they made it to the USA Team or just learned life lessons. The Atlantic Karate Academy was one big family," Patty said.
USA Karate Hall of Fame ceremony will be held on April 18th in Ohio.