By Neil Schulman
Long Branch — On Thursday, the Long Branch Police Department promoted two officers and officially welcomed seven more to the  force.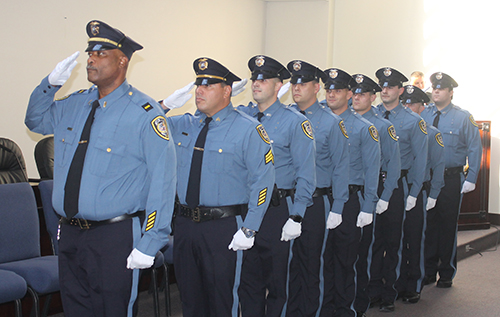 Stanley Mooney was promoted to the rank of Lieutenant and Juan Vasquez to the rank of Sergeant. And while some have been serving on the force for a few months, last week marked the official swearing in ceremony for officers Daniel Gould, Joseph Corcoran, Mark Yutko, William Davies IV, Charles Conover II, Francis "Patrick" Sheldrick, and Kevin Romano.
Acting Police Chief Jason Roebuck had praise for all the men in the ceremony.
Mooney has earned many commendations over his time on the force, including the Long Branch Exchange Club's Police Officer of the Year in 1996 and 2001, the Monmouth County 200 Club's "Medal of Valor" in 1997, and the 2010 Wilbur Ray Community Excellence Award, to name a few. But Roebuck said that outside of the force, he's known as "Coach Moon" to the many young athletes he trains and inspires.
"Stan Mooney has had a stellar career here," said Roebuck. "It's his work off duty we're proud of.… He embodies the spirit we like to see our officers have."
Roebuck said he was also happy to welcome Vasquez to his new position, though he joked it would cause confusion, because Vasquez's brother, also named Juan, is also a LBPD sergeant.
Vasquez was one of the first officers to get involved when the police department restarted its K-9 program. He is also the department's go-to field training officer, "which says a lot, because we trust all those to teach other officers," Roebuck said.
The new officers, said Roebuck and Mayor Adam Schneider, show how the city's department has changed over the years.
Gould previously worked for the Marlboro Township Police Department, and Corcoran worked for the Ocean County Sheriff's Office, Department of Correction, and as a Military Policeman in the United States Army.
"I've been here long enough to remember when people transferred out of here," Roebuck said. Now many officers from other departments seek to come to Long Branch. "It's a testament to the mayor and council."
Four of the remaining ones had served as Special Law Enforcement Officers (SLEO) in Long Branch before they were hired as regular officers. The fifth was also a special in other municipalities.
Schneider says Long Branch likes to get its new officers from SLEOs. It gives police a chance to observe them and get to know them.
"We see which guys understand what it means to be a public servant," he said, urging any city residents interested in police work to consider a summer job with the department.
Lt. Mooney and Sgt. Vasquez, both hired in the late 1990s, have been part of the police department's transformation, Schneider said.
"We made a decision more than 20 years ago, if this town was going to move forward, we had to get safer," he said. "We had a public safety perception problem, at best."
"We were going to up not only the numbers, but the quality of training of our police department," Schneider said.
Before delivering the Benediction, Rev. Aaron Gibson of Second Baptist Church said that whenever there was an emergency call, the police were always first on the scene.
"I'm grateful as a citizen, and one of the leaders of the City of Long Branch, to welcome you," he said.