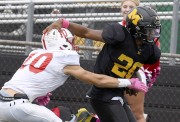 By Walter J. O'Neill, Jr
October 9, 2021 – They say all good things come to those who wait. Well, the Falcons of Monmouth Regional High School football team has not only been waiting, they have been preparing. Saturday, October 9, it all paid off as they hosted Point Beach in a Shore Conference National Divisional contest.
Monmouth Regional completely dominated the Garnet Gulls winning 38-0. With that victory, the Falcons won the divisional title with a perfect 5-0 record. Fifteen years ago was the last time a football team at the high school won a divisional title.
It has not been an easy journey to this point, as the Falcons went through head coaches like athletic trainers go through tape. However, three years ago, Dan Wendel was given the task and responsibility of building up the program. That first year his team didn't win a single game, and last year they finished 2-6.
"The players and coaches believed in the program and knew it would take time and hard work. I am thankful that I had a community, parents, staff and students who trusted us with our vision and plan," said Wendel.
Some Monmouth Regional fans thought it was going to be the same old Falcons after they lost 20-14 to open the 2021 season. Since that first loss, the Falcons have been undefeated outscoring their opponents 164-34. "We had a great off season, these players put in the time and effort to improve. I also have to give thanks to the seniors and juniors from my first two seasons here. They also helped contribute to the results of today," Wendel said.
Assisting Wendel this season are Domenic Miraglia, Jason McQuay, Andrew Faccone, Anthony Gaurino, Clifton Orwick, Jeff Sfraga, Malik Wiggins, Alec Gaurino, Billy D. Williams, Rob Micheliche and athletic trainer Adam Elsieidy. "I can't say enough about this crew. They also put in the time and effort in helping the players and community change their attitude about Monmouth Regional football," Wendel said.
Back in 2006, the last time Monmouth Regional won a divisional title, the defense was known as the "Wolfpack" as they worked together and tackled as a gang. Well, the 2021 Falcons not only team up on defense, but offensively they work perfectly together and special teams are also well balanced. "This is a special group, as we don't have one superstar, we have a complete team of stars who all work off each other," said Wendel. He added that when one player might be off or down, the others step up and help that player out of the slump.
Against Point Beach the Falcons took their opening possession all the way to their opponents 10-yard line and fumbled, losing the ball. Monmouth Regional teams in the past would have had trouble shaking that mistake off, not this team. The first quarter was scoreless.
In the second quarter, Monmouth Regional scored a touchdown on an eight-yard run by Frankie Harris-Thomas and two-point conversion by Nick Huisman. With 6:36 left in the first half, they were up 8-0.
Point Beach had their best defensive stand at the end of the first half. Monmouth Regional had a fourth and one at the Gulls six-yard line. The Falcons went for it and were stuffed. Point Beach took over possession with seven seconds left and took a knee down 8-0 into the halftime break.
Monmouth Regional had an amazing third quarter and second half. They added 30 points to their total and held Point Beach scoreless. It started with a 36-yard touchdown pass from Anthony Jehn to Nelson Harris-Thomas, but a flag and penalty was called against the Falcons. No score.
A few plays later, Brandon Ligon runs in for the Monmouth Regional touchdown. Jehn connected with Phil White for the two-point conversion and they were up 16-0.
Gerald Wiggins of Monmouth Regional then intercepted a Point Beach pass at the Falcons 12-yard line. The game was stopped for a few minutes as a Point Beach player was injured and had to be transported to the hospital.
When the game resumed, Monmouth Regional had a second and 20 at their own 23-yard line. Julian Jones, junior, then broke away for a 67-yard touchdown. The Falcons were up 22-0 with 49 seconds left in the third quarter.
Point Beach started the fourth quarter with a fumble at midfield which was picked up by a Monmouth Regional player who went 50 yards for the touchdown. With 11:48 to play they were now up 30-0.
The last score of the game was a two-yard run by Jones giving Monmouth Regional a 38-0 lead with 3:33 to play.
"I'm so happy for these players, their parents and our community. This win and divisional title shows our plan is working," said Wendel.
Monmouth Regional has one regular season game left to play. Saturday, October 16, they will host Point Boro, who are undefeated at 4-0 and the Patriot Division champions.
Click on the photo for the caption.
More photos will be posted at www.Facebook.com/TheLinkSports