Long Branch – The Greater Long Branch Chamber of Commerce is proud to announce the recipients of the 2022 Louis G. Libutti Community Service Award. The award was established in 1970 in honor of Louis G. Libutti who was a former president of the Long Branch Chamber. Exemplary leadership, outstanding professional achievement, and community service are the criteria for this award.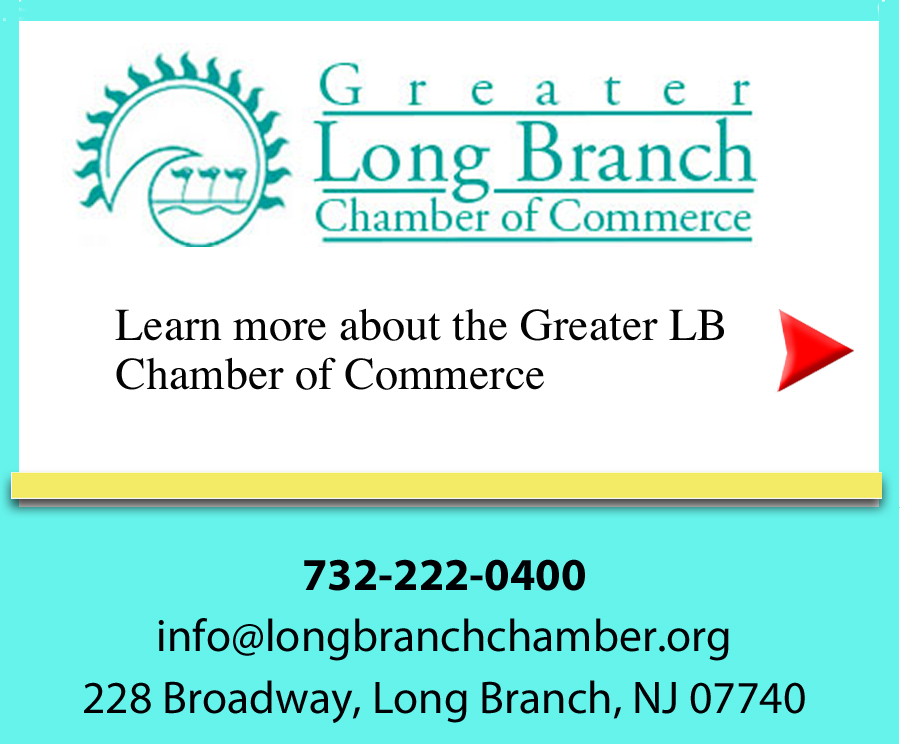 The 87th Annual Business Awards Dinner will be held on Thursday, October 6, 2022, at the Ocean Place Resort & Spa, 1 Ocean Blvd., Long Branch, New Jersey.
Receiving the prestigious Libutti Award this year are Monmouth Medical Center President and CEO Eric Carney, Chief Medical Officer, Dr. Kenneth Granet, M.D., FACP and Joseph Tuzzio and The Staff of Tuzzio's Italian Cuisine.
Recent recipients include Tony Perri owner of Fine Fare Supermarket, Ed Johnson, Director of the Higher Learning Center at Brookdale Community College, and Dr. Margaret "Meg" Fisher of the Children's Hospital at Monmouth Medical Center, Patricia O'Neill owner of The Links News, Esther Cohen, owner of Cedars & Beeches Inn and Tonya Garcia, Director of the Long Branch Free Public Library.
Eric Carney serves as President and Chief Executive Officer (CEO) of Monmouth Medical Center in Long Branch and Monmouth Medical Center Southern Campus in Lakewood and has executive responsibility for the daily operations of both campuses. He joined Monmouth Medical Center in 2016 as Chief Operating Officer (COO). In this position, he was responsible for the oversight of all clinical and non-clinical departments. He was promoted to the hospital's top leadership role as President and CEO in February of 2019 and was additionally appointed President and CEO of Monmouth Medical Center Southern Campus in September of 2020.
Previously, Carney served as vice president of operations at Saint Barnabas Medical Center and site administrator for Barnabas Health Ambulatory Care Center.
Carney began his career at RWJBarnabas Health more than 25 years ago as a respiratory therapist. In 1997, he was promoted to administrative director of respiratory care at Clara Maass Medical Center in Belleville. He has served in numerous positions of increasing responsibility across the health system, including administrative director of clinical operations and assistant vice president of clinical operations at Union Hospital.
Dr. Granet was named Chief Medical Officer for MMC in 2021. He is responsible for the overall clinical vision for MMC and provides medical oversight, expertise, and leadership to ensure the delivery of the highest quality health care services.
Prior to taking on this role, Dr. Granet served as Chairman of the Department of Medicine at MMC. He joined the hospital's Medical and Dental Staff in 1993, and prior to taking on the role of Chairman of Medicine, served as an assistant program director within the Department of Medicine. Additionally, he served as the chairman of the hospital's Ethics Committee and section chief of Monmouth's Department of Medicine.
He currently serves as chairman of the RWJBarnabas Health Medical Value Analysis Team Committee.
Dr. Granet earned his medical degree at Downstate Medical Center in Brooklyn, N.Y., and trained in internal medicine at Cornell Cooperating Hospitals and North Shore University Hospital in Manhasset, N.Y., and Memorial Sloan Kettering Cancer Center, New York.
Mr. Joseph Tuzzio was born on May 21, 1955, in the City of Long Branch. He was raised by his parents Margaret and Joseph.
Margaret and Joseph established Silver Dollar Bar in 1965 when Joe was 10 years old. Having spent his days and evenings at the restaurant, Joe Learned the business and loved it. In 1975, shortly after Joe graduated from Long Branch High School, the Silver Dollar Bar became known as Tuzzio's Italian Cuisine. Joe had a vision to make Tuzzio's Italian Cuisine into a popular family restaurant. A menu change was implemented, and the rest is history.
Mr. Tuzzio, along with his wife JoAnn, currently resides in Jackson, NJ. He has two sons, Joseph and his wife Christine, and James.
Mr. Tuzzio is a member of the Independent Fire House, The Ocean Township Italian American Association, The Long Branch Chamber of Commerce, FOP Lodge 30, Knights of Columbus, New Jersey Restaurant Association, and The Geneva Association.
There does not seem to be anyone in the area who has not heard of Tuzzio's, but Joe is best known as a contributor, and was recognized repeatedly for his generosity to the Ronald McDonald House. Whenever someone in need calls, Joe always answers. Joe was recognized by the Long Branch Board of Education for his countless contributions to the students and staff. The Long Branch Exchange Club honored Mr. Tuzzio during their Mardi Gras Celebration.
Other Awards being presented: The Humanitarian Award will be presented to William Boglioli, owner of the Woolley Boglioli Funeral Home.
Long Branch native, Bill Boglioli, knew his life's calling early on, from the time he and his grandfather visited family friends who owned a funeral home in Blairstown, NJ. Bill started working at the Woolley Funeral Home when he was 17 years old – and hasn't left his "second home" since.
After attending Monmouth College and graduating from the American Academy McAllister Institute of Funeral Service in New York City, Bill began his formal practice as a licensed funeral director at the Woolley Funeral Home. When long-time friend and owner, Bruce Woolley, died suddenly in 2009, Bill took over as manager, and in 2011, he bought what is now called the Woolley-Boglioli Funeral Home. Four years later, Bill and his wife, Denise, acquired the Holmdel Funeral Home.
Along with helping families at the funeral homes, Bill is devoted to his community, having served 12 years on the West Long Branch Council, 11 years as chairperson of the Police Committee, and as president and treasurer of the Long Brand Rotary Club. He is also a former member of both the West Long Branch Zoning Board of Adjustment and the United Way of Monmouth County. Today, Bill's civic responsibilities include his work as a member of the Advisory Board of The Unterberg Children's Hospital at Monmouth Medical Center. Bill is also an active member of the Holmdel Kiwanis Club, VNA of New Jersey, and the Colts Neck Business Association and Business Exchange.
He is an active supporter of the Long Branch Police and Fire Departments, the Long Branch Elks Lodge #742, the New Jersey Funeral Directors Association, and St. Michael's Roman Catholic Church in Long Branch, where he serves on the parish finance council. Bill is also a member of the Church of St. Catherine, Holmdel. Bill's desire and active efforts to help individuals and organizations exemplify his philanthropic nature.
In his free time, Bill enjoys spending time with Denise and their two sons: Chris, an attorney, and Scott, a funeral director, who works alongside his father in both businesses. Bill is also a member of Deal Golf and Country Club and loves a good game of golf.
Over the years, Bill has earned a reputation as one of the most caring men around, guiding families through life's saddest moments with grace, compassion, and kindness. For Bill, the funeral homes are more than a business; they represent his life's purpose.
The Next Generation Leader Award will be presented to Brady Ceppaluni, owner of Dancing Through Life and to Jason and Jeremy Julio, Owners of Last Bite Mosquito.
The Invest in Long Branch Award will be presented to Rabbi Laibel Schapiro Spiritual Leader and Director of Chabad of the Shore.
Rabbi Laibel Schapiro is the spiritual leader and director of Chabad of the Shore since 2002. Located in the heart of Long Branch, Chabad of the Shore has developed into an epicenter of Jewish life in Monmouth County and is the source of spiritual growth and inspiration for thousands.
The Business Improvement Award will be presented to McDonalds, 21A on Broadway Restaurant & Bar, Shore House, City of Long Branch Arts Building, The Brighton, Pier Village ll – Retail.
Dinner tickets are available at $125 per person. Please contact the Chamber office at info@longbranchchamber.org or 732-222-0400.