Long Branch– National Minority Health Month is dedicated each April to raising awareness about health disparities that continue to affect people from racial and ethnic minority groups and encourage action through health education, early detection, and control of disease complications. At Monmouth Medical Center (MMC), a historical exhibit titled "Black Firsts in Medicine" speaks to the theme for National Minority Health Month 2023: "Better Health Through Better Understanding."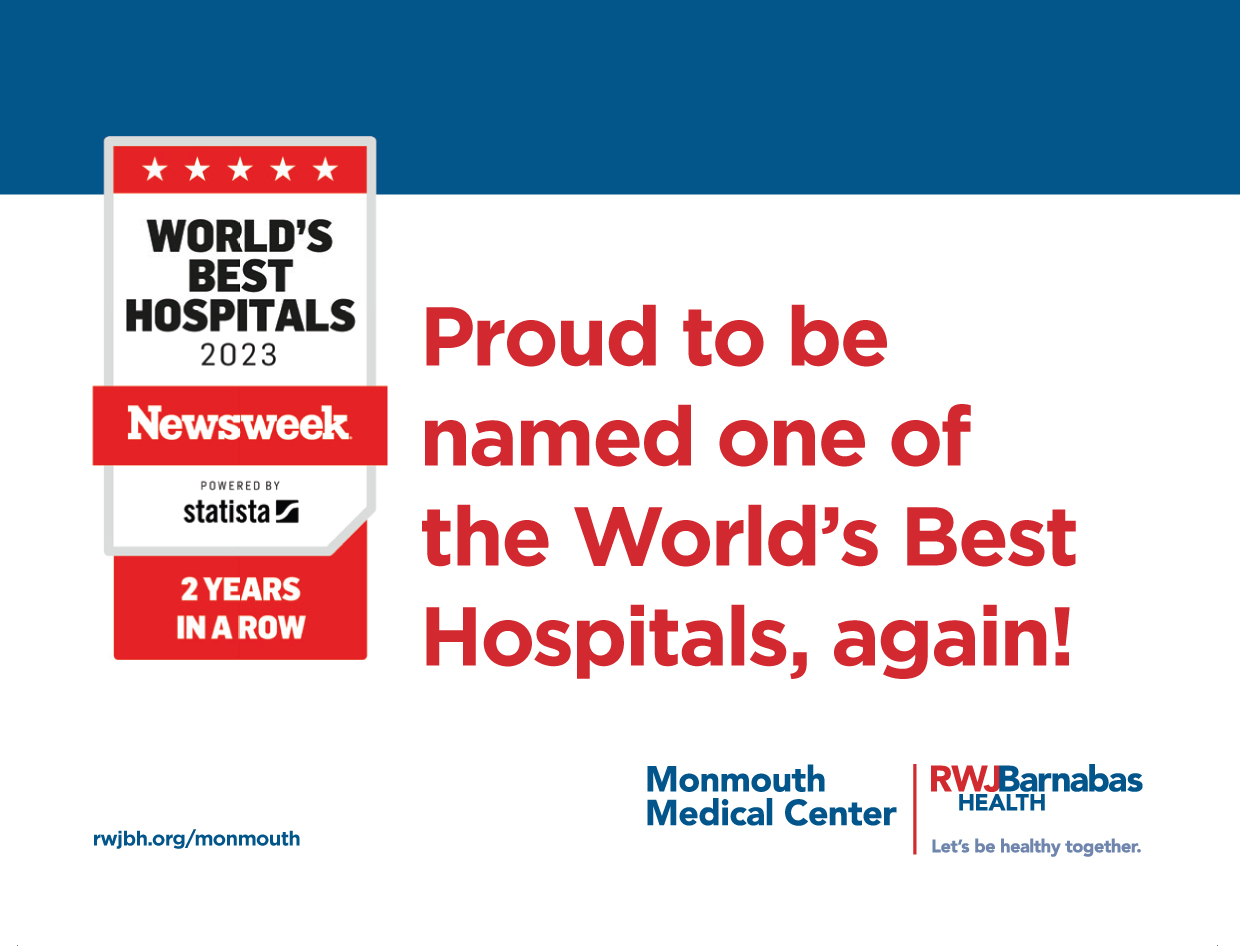 This important exhibit was developed in partnership with the T. Thomas Fortune Foundation and Cultural Center in Red Bank and celebrates the groundbreaking contributions of Black Americans in the health care industry. It was created exclusively for MMC, where, in 1955, Dr. James W. Parker Jr. became the first Black physician on the hospital's medical staff.
"My hope is that our participation contributes to the important conversations we are having about race and equitable access to health care," said Eric Carney, President and CEO of MMC and Monmouth Medical Center Southern Campus. "By celebrating the contributions of Black Americans in health care, I hope we can begin to breakdown trust barriers that may exist with the medical field. The partnership will also educate health care providers and shape a better understanding of the unique needs of Black Americans, as together, we are aligned to achieve better health, wellness and equitable accesses to care through openness, understanding and education".
Minority Health Month also comes on the heals of Women's History Month, which was created to celebrate the accomplishments of women throughout the years, and each year it provides the opportunity to reflect on trailblazing women who have led the way for change. At MMC, the Black Firsts in Medicine exhibit spotlights not just the Parker family of prominent Red Bank doctors, but also the Black women who were health care pioneers in this region.
Featured on the exhibit is MMC's own Greta Butler, one of the first black nurses on staff and one of the first women of color to graduate from the School of Nursing at Monmouth Memorial Hospital (as MMC was then known). She went on to earn bachelor's and master's degrees in public health nursing and was active in community health programs, both as an instructor and a volunteer.
Also prominently featured is Physical Therapist Bessie Thornton, who devoted 38 years caring for MMC patients. Bessie received her license as a physical therapist in 1964, and is honored as a pioneer in a field that even today acknowledges a lack of diversity that does not mirror the U.S. population nor has improved with the growth of the profession.
Additionally, the exhibit pays tribute to Alma Harvey Penn, RN, the first black supervisor of nursing in a New Jersey hospital and among the first black nursing executives in the United States. Among those attending the hospital's dedication of its Black Firsts in Medicine exhibit was Alma's daughter, Carol A. Penn, DO, MA, FACCE, who followed her mother's career path in healthcare when she entered medical school after age 40. This career change followed earlier accomplishments as an award-winning choreographer who had trained, performed and taught with the world-renowned Alvin Ailey American Dance Theater.
"I am so grateful to the entire leadership team at Monmouth Medical Center for becoming passionate sponsors and collaborators to carry the stories of these medical pioneers in our community that we all can be proud of," said Dr. Penn, a physician board-certified in family medicine and osteopathic manipulative treatment who was born at MMC. "I can't tell you how deeply touched I am to see the story of my mother carried forward in such a respectful and memorable way. Seeing her through the lens of this exhibit, knowing that someone may be encouraged or inspired is humbling to say the least and I know my mother is smiling from the heavens."
The display corresponds with a permanent exhibit in the Parker Family Legacy Room at the T. Thomas Fortune Cultural Center, a national historic landmark in Red Bank. Sponsored by MMC, the Legacy Room chronicles the history of Parker family members who served their community for over 80 years.
"We will continue to partner with outstanding organizations like the T. Thomas Fortune Foundation and Cultural Center to meet the unique needs of our community in an inclusive way and celebrate the diverse experiences cultures and histories of those we serve," he adds. "I am incredibly grateful that Monmouth Medical Center and RWJBarnabas Health could help make these important exhibits possible."