New block of seats at $36 now available
DEAL –  Israeli pianist Guy Mintus and vocalist Naama Nachum will travel from Israel to perform benefit concert for Israel at Axelrod PAC.
Israeli pianist and composer Guy Mintus and his wife, vocalist and actress Naama Nachum, will perform A Benefit Concert for Israel at 7:30 p.m. Sunday, October 29, sponsored by the Axelrod Performing Arts Center in Deal Park and Jewish Federation in the Heart of New Jersey.
100% of the funds raised will go directly to the Jewish Federation's Israel Emergency Fund, providing humanitarian aid to victims of terror, such as medical care, evacuation, housing, and trauma relief.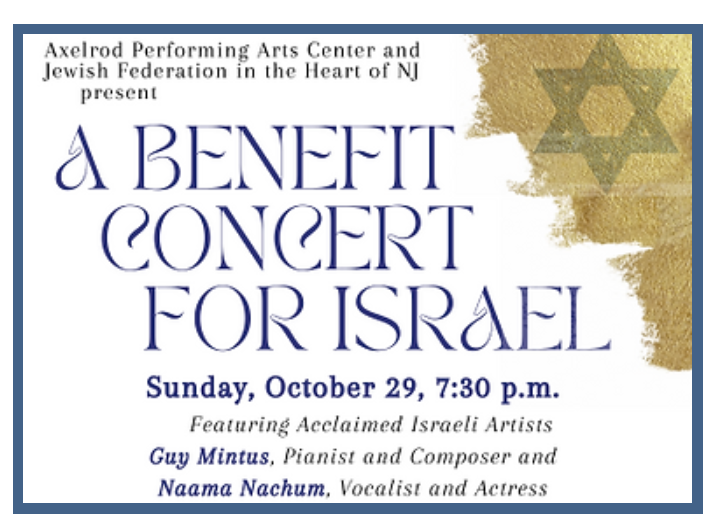 "It's important for me to contribute as much as I can through the powerful means that is music," said Mintus. "Raising funds, helping the shattered spirits of many of us, I believe that every little bit helps and since we're all connected, each of those avenues feels meaningful right now."
This special concert will take place at 7:30 p.m. Sunday, October 29, at the Axelrod Performing Arts Center, 100 Grant Ave., Deal Park. A new block of tickets at $36 has just opened up. A limited number of Donor seats at $180 and VIP seats at $360 are still available. Sponsorships are also available for $10,000 (18 tickets) or $5,000 (8 tickets). For tickets or more information, call 732-531-9106 ext. 14 or visit www.axelrodartscenter.com/benefit.
NJ State Senator, Vin Gopal, will be among the dignitaries speaking.
Winner of the Leonard Bernstein Award and the composer of the music for the recent "Fiddler" documentary on HBO, Mintus performs in venues in Israel and around the world. In coming from a mixed heritage of Iraqi, Moroccan and Polish Jews, his boundary-crossing music brings together elements from Indian rhythms to Bach-styled counterpoint, Jewish melodies, and American jazz standards, all weaved together in his own signature style.
An in-demand performer and recording artist, Nachum, has performed at a wide array of musical and theatrical productions at some of Israel's leading cultural institutions and concerts abroad. She is a member of Quinta and a Half, an internationally acclaimed acapella group and is co-founder of the vocal jazz-cabaret ensemble Doo-Wop Girls. She has also recorded for various Disney films, including Sing, Beauty and the Beast, Coco and Trolls.
The recent terrorist attacks in Israel have literally hit close to home for the couple.
"Every Israeli has been affected by these events," he said. "As it's a very small country, we've all either lost loved ones or know someone who did. My life changed on October 7. There's grief, shock and trauma everywhere. We barely leave home for safety reasons and of course, all concerts in Israel have been cancelled as well as a concert tour in Vietnam we were supposed to be on right now."
Mintus said that since October 12, he has been offering free broadcasts every night from the bomb shelter in the couple's apartment, where his grand piano is located. About 100-200 people participate each night.
"Many people write me that these broadcasts are like air to breathe," he said.
Mintus said the audience at the Axelrod PAC concert can expect to hear the couple's personal interpretations of classics ranging from the Great American Songbook to the Great Israeli Songbook, as well as some instrumental reimagining of staples from the classical European canon.
"When Naama and I play together, we have our own way of approaching the songs," he said. "We like to call it 'song painting.' We very much draw from the story of each song and bring it to life in a way that's very spontaneous in terms of time, harmony, and melody. There's a constant dialogue going between us as we utilize our backgrounds in jazz, improvisation, and musical theater to express ourselves and find our unique point of connection to each song."
Event chairs, James Aaron and Elise Feldman, invite the entire community to come out to Axelrod for an uplifting experience. The Axelrod Performing Arts Center is located at 100 Grant Ave., Deal Park, NJ 07723
For more information, please call 732-531-9106 x14.