Back in October of 2013 Acting Monmouth County Prosecutor Christopher Gramiccioni told those in attendance at a meeting at Manasquan High School that heroin use has reached epidemic proportions in this county.
Monmouth County had 10 homicides in 2013 as of October. During that same time period 37 people had died from heroin overdose. In that presentation it was also mentioned that in the Freehold Regional High School District, 721 people (students and non-students) have sought professional help for heroin addiction and 164 in the various sending districts that make up Manasquan High School.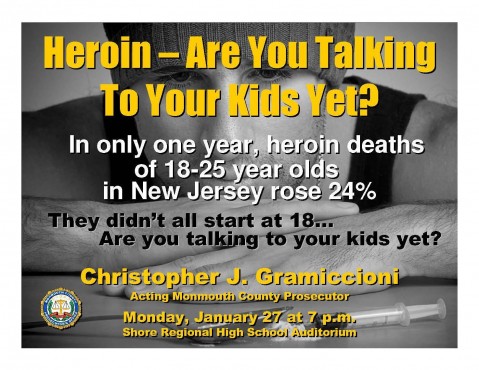 Eighty percent of people began using heroin with friends, but eighty percent of addicts who overdose are found alone. "This is why we need to change the conversation," Gramiccioni said. He added that the purity of today's heroin makes it a more dangerous drug than it was 20 years ago. Purity levels of the available heroin in New Jersey are nearly double the national average, with area heroin reaching purity in excess of 90 percent.
Heroin is not an inner-city drug problem. The suburbs, the tiny towns, are all experiencing the epidemic. Heroin does not discriminate; it does not care how old you are, what color you are, your gender, where you live or what you do for a living.
Heroin will enslave you. Force you to do things that you thought you were never capable of doing. Addicts turn to stealing, prostitution, whatever it takes to get their next fix. According to Gramiccioni the saddest statistics is that the largest number of addicts is those under age 26. And eighty percent of those people are lost forever and never assume productive lives.
January 27, 2014 at 7:00 p.m., Monmouth County Acting Prosecutor Christopher Gramiccioni will make is powerful presentation at Shore Regional High School for the students, parents and concerned residents of Oceanport, West Long Branch, Monmouth Beach and Sea Bright.