By Patty Booth O'Neill
Long Branch — A service was held at the Second Baptist Church on Liberty Street on Tuesday morning celebrating the lives of Joan Colbert and Veronica Roach. The church was filled to capacity, standing room only.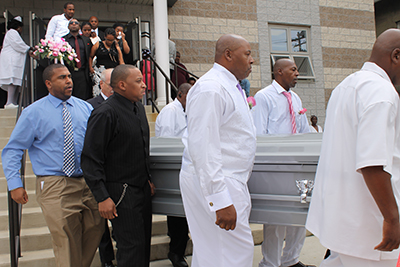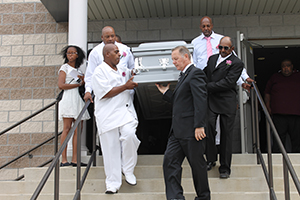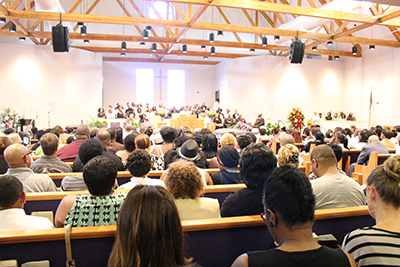 Joan and Veronica were loved and looked up to in the Long Branch community.
Both were found murdered in their Lippincott home on Friday, August 1.
Elder Caroline Bennett spoke about how Joan was always willing to help people out. If anyone was short on money and hungry, she'd have a barbecue in her backyard. And if she said she'd be there to help someone, she would always show up. Bennett reminded the crowd of people that the two were with God now.
"Never mind who did it," Bennett exclaimed to shouts of amen and nodding heads. "God will bring them to justice! Vengeance is mine, sayeth the Lord."
Joan Colbert, sixth out of 18 siblings, passed away at the age of 62. The service held at Second Baptist Church was for Joan and her foster child, 10-year-old Veronica Roach, who died the same day.
Joan had been a member of Aslan Youth Ministries for over 20 years. She drove a bus, picking up children for meetings, field trips and other events. When she could no longer drive, she became an assistant and helped wherever she could.
Aslan is an organization that provides community outreach programs to the youth in town, based out of theLong Branch Covenant Church. She brought Veronica along with her, as was remembered by Aslan co-founder Lynn Ann Bogard.
"People like Joan and Veronica changed my life," Bogard said. "When you hold them in your arms and you weep when they weep and pray with them, your faith deepens."
Some, like Sheila Gibson spoke about their memories and choked up, having trouble continuing. Others spoke about happy times causing those present to laugh at the vision it created.
One of those memories shared was from Joan's brother George Colbert, who  told a story about Veronica. He told how Veronica, whose nickname was Binky, wanted to follow him everywhere when he was at their house.
"I was taking the trash out and she begged to come along," George said. Veronica followed him to the garbage can and when he moved it they saw a skunk behind the can. It stiffened up, and its tail went up in the air. "Before I could even react I heard a "clunk". Binky had run into the house and locked the door," George laughed. "When I ran up to the door yelling to let me in she just giggled on the other side."
Reverend Aaron Gibson spoke about how Veronica had just finished a two-week vacation bible school. "She asked if she could start coming to Sunday bible study and I said 'sure, but you'll have to ask your mother,'" Gibson said. "She never made it to bible school, but she made it to heaven."