By Neil Schulman
Long Branch — Repealing the Affordable Care Act will not just affect tens of millions of people who get their insurance through the marketplace. It will also have a large negative impact on Family Health Centers, a major source of health care for many.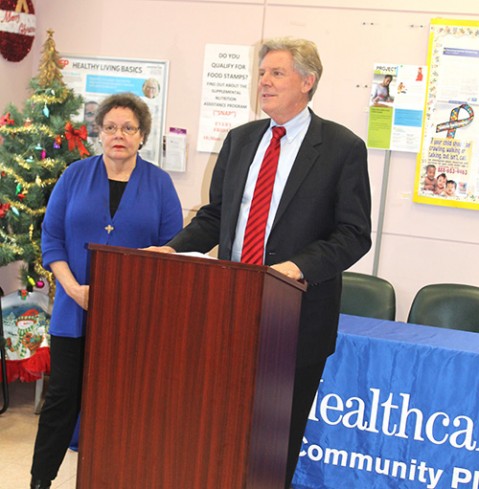 On Jan. 19, Congressman Frank Pallone visited Monmouth Family Health Center on Broadway, which has in the last several years received $4.5 million due to provisions of the Affordable Care Act (also known as Obamacare), from grants and increased insurance payments.
The Republican-controlled House already introduced a bill this year which makes it possible to defund provisions of the ACA. Ever since it was introduced, Republicans have said they wanted to eliminate it — which Pallone says is a mistake.
Provisions of the Affordable Care Act helped Monmouth Family Health Center expand its services, adding a dental center and a women's center.
"In the last six years, in a large part due to the Affordable Care Act, we've seen this facility not only look better, but service a lot more people," Pallone said.
The center also helped sign 3,000 people up for insurance, which Pallone and Dr. Marta Silverberg, Executive Director, said helped not just the center, but all insurance payers.
"We're called safety net providers," Silverberg said. That means they can't refuse to see anyone, and the costs of covering those without insurance were born by the entire taxpayer base.
It also meant people were less likely to seek basic care. Someone without insurance who had something treatable, like hypertension, often waits until they're bad enough they need to go to the emergency room, which is more expensive than getting medicine and checkups, and again, winds up costing the taxpayers more.
Pallone said that Obamacare has actually been saving the federal government, and anyone who buys insurance, money. Before the ACA was introduced, $1,000 of the average person's premium went to covering the uninsured, something called "uncompensated care." If the millions who have bought it through the marketplace lose their insurance again in the next few years, that could expand to $3,000 per premium, Pallone said.
Pallone noted that the movement to defund Obamacare comes as the program's approval rating expands. For the first time, more than 50 percent of Americans believe the Affordable Care Act is a good thing.
Pallone urged people to write to their senators, representatives, and President Trump to urge them to preserve the system rather than dismantling it.