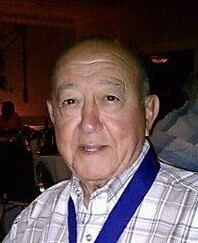 Alfred W. De Santis, Sr., "AL DE", 92, of Oceanport, passed peacefully on Tuesday, July 11, 2023, surrounded by his wife and family. He was born on May 26, 1931, in Long Branch, NJ. He graduated from Long Branch High School in 1950. He served in the US Navy for four years. He then went on to college. He spent his life educating others and he was well-known as Track Coach, Football Coach, Teacher, Vice Principal, Principal, and Assistant Superintendent all at Shore Regional High School in West Long Branch. His coaching staff, along with his entire 1965 football team was inducted into the Shore Regional High School Hall Fame in 2019.
One of Al's proudest accomplishments was his service in the town of Oceanport. He was a lifetime member of the Port au Peck Chemical Hose for 61 years where he served as Chief, Captain, and President for several terms. He was an active member of the Oceanport Exempts and Relief Association. He served many years on the Oceanport Board of Education and Oceanport Board of Health. He was a member of the Oceanport Senior Citizens' Club. In 2008 he was the recipient of the "Oceanport Lifetime Achievement Award." He also served as Grand Marshal for the Oceanport Memorial Day Parade.
He was a member of the Long Branch Old Guard and the Eatontown Elks. He was a High School Football Official for 35 years, and was able to pass the torch to his son, Al Jr.
What Al valued most was his beautiful family. He never missed a game or match, school concert, play, recital, or graduation. He made sure to wear his best coordinating outfit to each function.
Al is predeceased by his parents, Mary Ellen (Mazza) and Francesco De Santis, his brothers, Peter, Joseph, Robert and Anthony De Santis and his sister, Jeanette Lindhardt.
Al is survived by the love of his life and wife of 64 years, Pattie, his daughter, Katie and her husband David LaPorta, his daughter, Fran and her husband Michael Cassidy, and his son Al De Santis, Jr., and his wife Denise. He is also survived by his grandchildren, Tori, and her husband Alex O'Dor, Colette, Gianna and David LaPorta, Jr., Grace and Michael Cassidy, Marissa, Cassie, and Al De Santis III and his loyal canine companion, Fluff.
Visitation will be on Monday, July 17 from 3:00-7:00 pm at Fiore Funeral Home, 236 Monmouth Road, Oakhurst, Ocean Township. Funeral Mass will be offered on Tuesday, July 18 at 10:30 am at St. Dorothea's Roman Catholic Church in Eatontown. Burial will follow at Mount Carmel Cemetery in West Long Branch.
In lieu of flowers, the family requests donations go to Oceanport Fire Department c/o Port au Peck Chemical Hose, 433 Myrtle Avenue, Oceanport, 07757, Oceanport First Aid Squad, 2 Pemberton Ave, Oceanport, 07757 or the Eatontown Elks, 216 Broad Street, Eatontown, NJ 07724. For condolences, please visit www.fiorefuneralhomes.com.