By Walter J. O'Neill, Jr
Just before 2:00 in the morning on Tuesday, September 20, 2016 a city police officer was viciously attacked and knocked unconscious.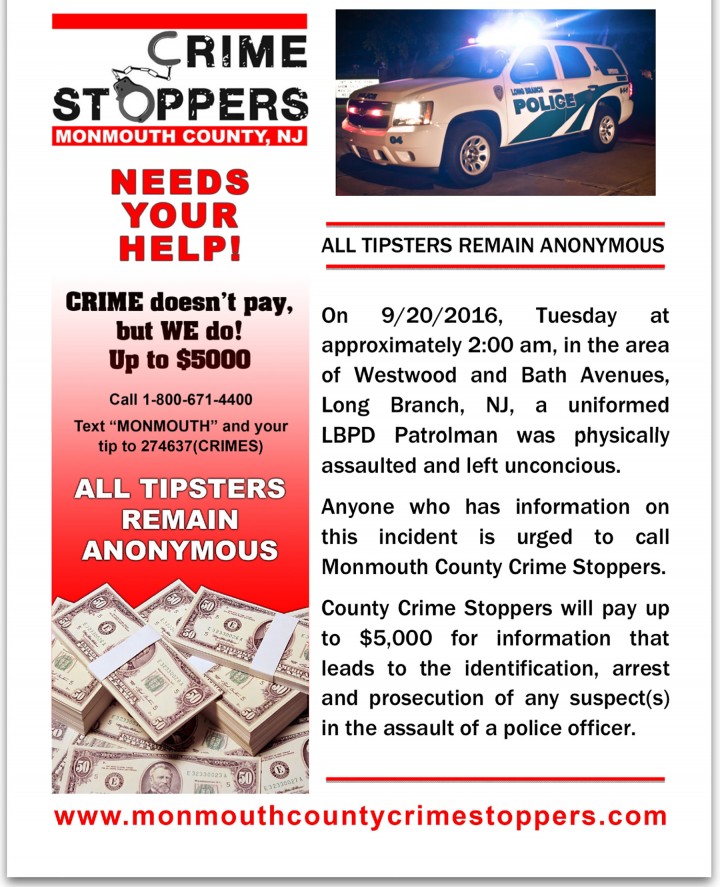 Jason Roebuck, Long Branch Public Safety Director, stated that Officer Michael Monahan was on routine patrol when he noticed several subjects with flashlights near an abandoned building. The location of that structure is on the corner of Westwood and Bath avenues.
Monahan, who is a 13-year veteran of the department, radioed that he had suspicious individuals and gave his location. According to Roebuck, Monahan left his patrol car to investigate. That is when the individuals fled.      "Officer Monahan gave chase on foot, and apprehended one subject, before being struck on the back of his head and knocked unconscious," added Roebuck.      Responding officers were unable to communicate with Monahan on the radio, so they  became worried. When the officers arrived they located his patrol car, but still had no visual on Monahan who was not answering.     Immediately officers started searching the area, which is a large grassy field around the abandoned building.
"They finally located Officer Monahan by the light given off by his flashlight. He was found face down and unconscious. He was transported to Jersey Shore Medical Center where he remains under observation for a head injury,"  Roebuck said. "We are hopefully and optimistic for a full recovery."      In 2008, Officer Monahan was at Pier Village to assist another officer on a first aid call. He noticed a man in the ocean stuck in a rip current and being pulled out to sea. Monahan, recognizing the danger and in disregard of his own personal safety, immediately ran into the water. He battled the currents and rescued that man, saving his life. He was presented a Merit Award by the 200 Club of Monmouth County. Monahan was also honored as Police Officer of the Year, twice. He is an active trilithon athlete and has competed in Ironman competitions.
During those early morning hours the K-9 Units from Tinton Falls and the Monmouth County Sherriff's Office responded and assisted the many officers and detectives looking for the individuals who attacked Monahan. Police are looking at videos from nearby homes, apartments and businesses to see if that will help in the identification of the attackers.
"This is an active investigation at this point, and we are working to bring these subjects to justice, said Roebuck.
Anyone with information about this crime, please reach out to DET Joe Spitale of the Long Branch Police Department at 732-222-1000, or DET Pam Ricciardi from the Monmouth County Prosecutor's Office," .     Crime Stoppers is also offering a reward of up to $5,000 for information leading to the arrest and prosecution of any suspect.  The number is 1-800-671-4400.